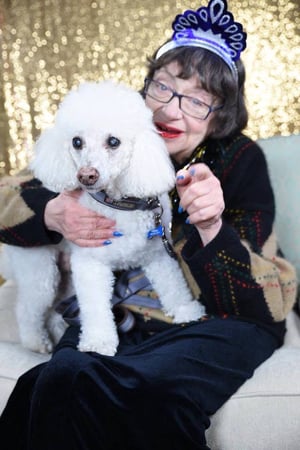 Recently, residents and staff at Country Gardens in Dunwoody, Georgia had their photos professionally taken with adoptable animals—all for a good cause!
Country Gardens hosted Models to the Rescue, an organization with partners with pet rescue organization Angels Among Us. Models to the Rescue assists Angels Among Us by taking disabled or elderly animals and photographing them with models for use in magazines, billboards, and other forms of media.
The two groups recently brought professional makeup artists and hairstylists to Country Gardens, as well as refreshments to enjoy. Residents and staff were professionally photographed specifically with animals looking for a "forever home."
Raising Awareness
"The goal is to find forever homes for these sweet animals," said Lori Johnson, Life Enrichment Director at Country Gardens. "We came up with the idea of using our residents for these photographs, instead of professional models."
The event not only helped raise awareness for animals searching for a home, but the residents of Country Gardens benefited, as well. "Pet therapy is such a valuable activity for all seniors," said Johnson. Seniors of all care levels can benefit as a result of interacting with animals. Both one-on-one and group settings with animals provide benefits.
Angels Among Us Pet Rescue is a 501(c)(3) non-profit charity dedicated to saving dogs and cats from high-kill shelters in north Georgia.
A professional model/veterinary technician founded Models to the Rescue. Currently, she devotes her time and energy to rescuing all animals in danger.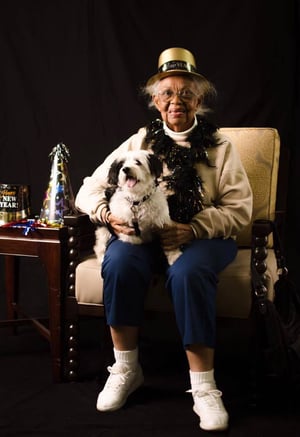 Research shows that pet therapy has a positive effect on the mental health of seniors. To learn more, check out our blog: The Role of Pet Therapy in Our Senior Living Communities.
To see more photos from the event, including some behind-the-scenes photos, click here to check out the full photo album on the Country Gardens Dunwoody Facebook page. Also, don't forget to "Like" them while you're there!
Contact us today to learn more about how we are always looking for unique ways to actively engage our residents.