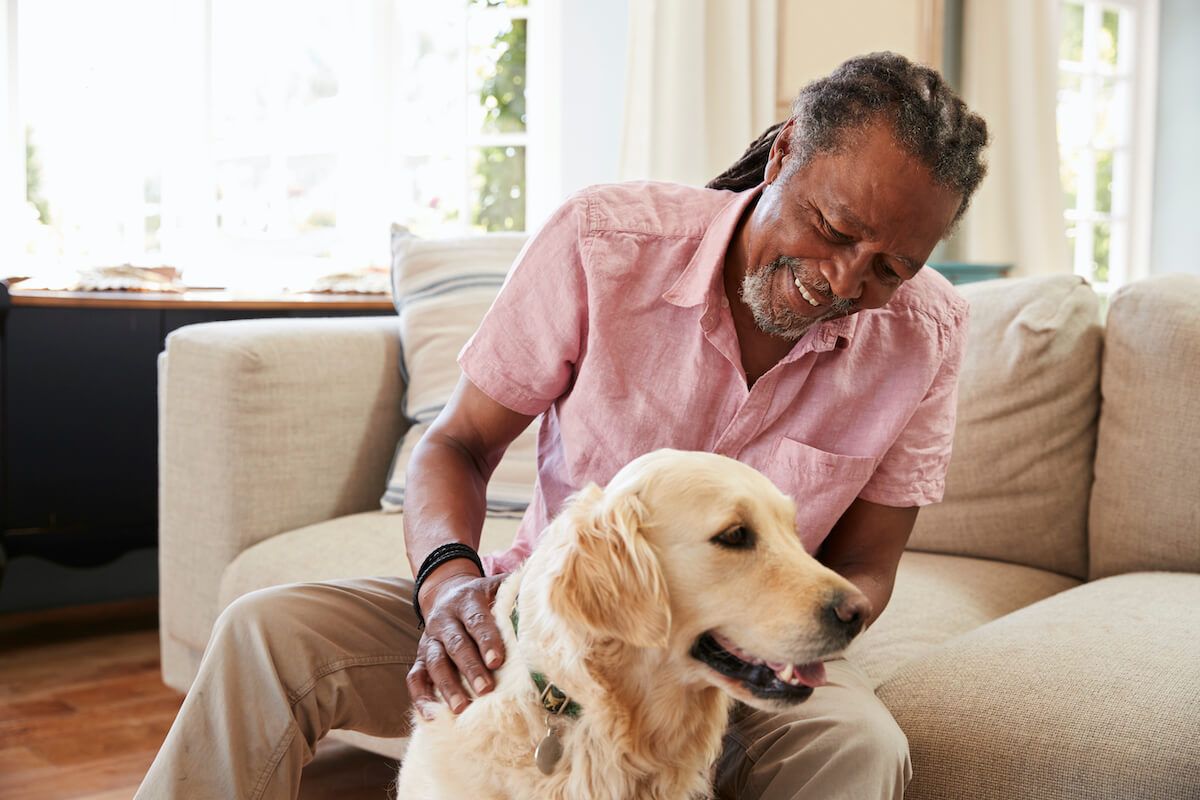 Anyone who has heard the soft purr of a cat or pet the fluffy coat of a dog knows how therapeutic animals can be. A pet provides countless benefits to the people around them, whether it's for companionship, comfort, or confidence.Pet therapy, or animal-assisted therapy, is becoming a popular form of mild therapy for older adults, especially those living with memory impairments. Unsurprisingly, interacting with pets has proven to have mental, physical, and emotional benefits. Fortunately, most senior living communities understand the value of pet therapy and incorporate it into their calendar of events.
Senior Solutions Management Group, with senior living communities across the southeast, offers animal-assisted therapy to promote the happiness and well-being of residents. We're sharing some information on the benefits of pet therapy, and how we use it here at Senior Solutions.
What Is Pet Therapy?
Animal-assisted therapies and activities are used to provide comfort and enjoyment to the residents of senior living communities. A variety of animals are used for pet therapy—from dogs and cats to fish and mini horses.
Our River Oaks Place Lenoir City community hosts pet therapy programs twice a month featuring resident-favorite therapy dog, Jewel. Jewel is an 8-year-old golden retriever who has been coming to the community twice a month since she was seven months old. "Jewel has been great for the residents," says Tim Snow, Activities Director at River Oaks Place Lenior City, "they've watched her grow up."
Animals involved in pet therapy are licensed and trained specially to interact with specific types of people. Animals used in therapeutic visitation to senior living communities are generally large, calm dogs, like golden retrievers or labrador retrievers. While some service animals aren't meant to be pet—that's the exact purpose of these therapy dogs. In fact, Jewel even wears a sign that says, "Please Pet Me." The residents love petting her, too! Research shows that the simple act of stroking a dog can ease anxieties and calm people down. "Just petting her helps them tremendously," Snow says.
At River Oaks Place Lenoir City, there even used to be cats living in the community. When the residents were napping in common areas, the cats would crawl up next to them, and according to Snow, "you could see them visibly relax."
We also partner with the STAR Rehab Program, which brings miniature horses to our residents. The residents love the horses because they are something new and different to interact with and pet.
Benefits of Pet Therapy
There are several known benefits of animal therapy—from mental to physical to emotional. Because of this, it's often used in a variety of ways with different types of people and conditions. Here are some of the benefits of pet therapy and how it's used:
Improves fine motor skills and coordination
Lowers blood pressure and heart rate
Reduces anxiety and loneliness
Develops social skills
Enhances mood and reduces depression
Promotes interaction with others
Increases focus and attention
In addition to helping older adults, pet therapy has also been known to help those with cancer or chronic conditions, mental illness, and children on the Autism spectrum.
Animal Therapy and Alzheimer's
Animal-assisted therapy is also extremely valuable for those living with Alzheimer's and other related dementia. Beyond improved focus and calming effects, pet therapy can also aid in behavioral problems. Snow says that just bringing in Jewel [therapy dog] can turn a bad day into a good day, and petting her will bring a resident focus.
Another popular and easy form of animal-assisted therapy is fish tanks and aquariums. Studies have shown that simply watching a fish tank for a few minutes reduces anxiety and improves focus in those living with Alzheimer's.
Most Senior Solutions Management Group communities have fish tanks or aquariums in the memory care area. According to Snow, the memory care residents love to watch the fish. "They can sit there and watch the fish for a while. It's very entertaining and therapeutic for them," he says.
Pet Therapy at Senior Solutions
Animal-assisted therapy can provide a multitude of benefits for various people, especially older adults. Whether it's for companionship and entertainment, or security and warmth, dogs and other animals can be a great tool in senior living communities to promote health and well-being to residents.
Pet therapy at Senior Solutions Management Group communities aims to present our residents with a loving companion that they can become familiar with, feel comfortable around, and enjoy. In addition to pet therapy, Senior Solutions offers other wellness programs, social events, and enriching activities—all in partnership with our personalized and attentive care.
If you are interested in learning more about pet therapy or other programs at our communities throughout Georgia, Louisiana, Tennessee, and South Carolina, we encourage you to contact our dedicated team!