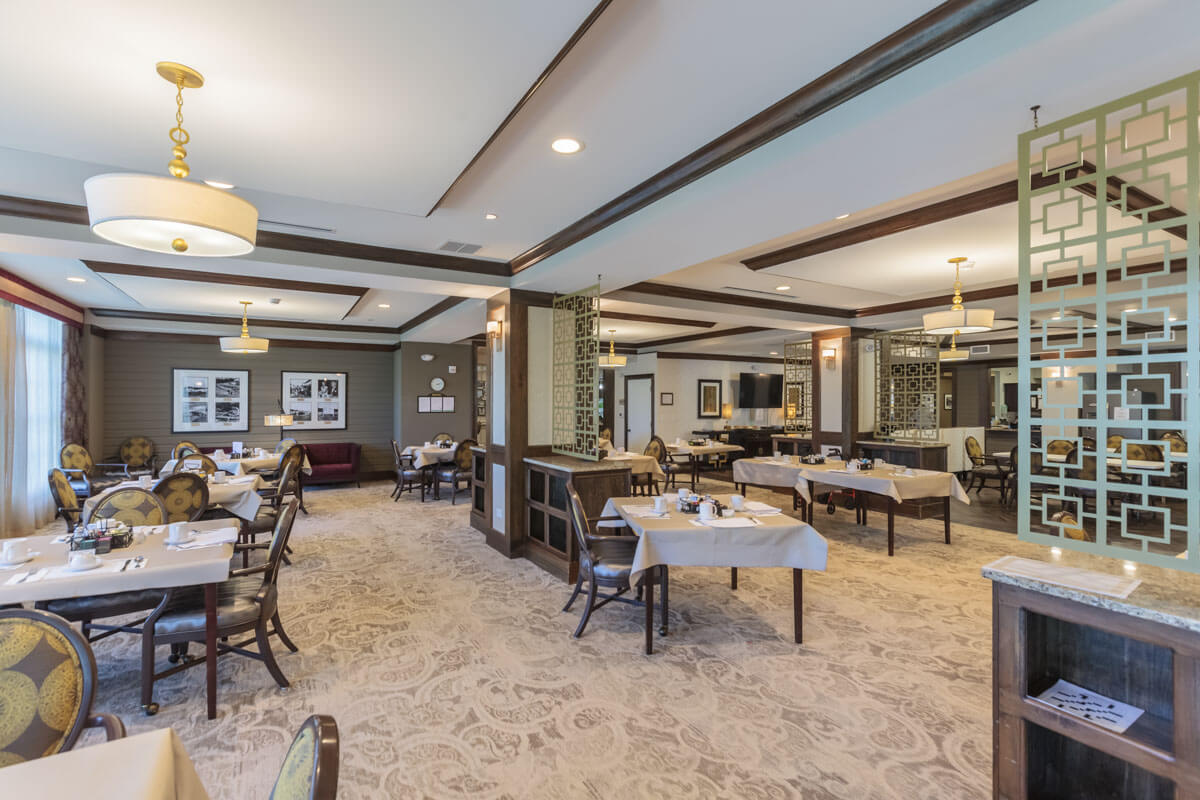 Senior living can be a rewarding and positive experience. Whether you want to take advantage of retirement with independent living or obtain some extra support with assisted living, senior living communities can provide a supportive and engaging environment where you can make new friends and memories.
When choosing the right senior living community, there are several things to consider. Most importantly, you want to ensure that wherever you choose will offer the level of care and attention that you require. You will also need to consider budget, location, features and amenities, accommodations, and dining options.
At any senior living community, a first-rate dining experience is a key component of resident health and happiness. Suitable cuisine and dining options are not only important to nutrition and health, but also to overall happiness and social well-being.
When potential residents and their families visit a Senior Solutions Management Group community, dining and food always are top of mind.
Will there be options to choose from?
Are meals planned with nutritional and dietary concerns accounted for?
How many meals are served per day?
While it is important to have concern over which types of foods you or your loved one will be eating, other considerations should be taken when evaluating senior living, especially when it comes to dining. The dining experience is more than just food alone—it is a social experience in a comfortable atmosphere.
Since we commonly receive questions about dining, we wanted to share some information about the benefits of proper dining, appropriate nutrition habits for older adults, and how we implement these ideas into the dining experience at Senior Solutions Management Group.
The Importance of Eating Well As You Age
Eating a nutritious and well-balanced diet is essential at any age, but for older adults, it can be critical in maintaining cognitive function, increasing energy and happiness levels, and preventing chronic illness.
Even if you've never considered yourself a healthy eater, it's never too late to start. Eating well doesn't have to be about bland foods and sacrifices, it can be a fun lifestyle change that includes eating whole, fresh foods, getting creative in the kitchen, and enjoying meals with family and friends. By implementing simple changes in your diet over time, you will begin to feel your best.
Here is a list of foods that older adults should include in their diet to ensure that you're getting the proper nutrients and vitamins. Don't be afraid to get creative in the kitchen and add your own twist to these healthy recommendations!
Lots of Fruits and Vegetables:

Dark, leafy greens like kale and spinach are loaded with antioxidants that promote healthy brain function. Opt for dark-colored berries when you're craving something fruity and tart.

Plenty of Fiber: Fiber is known to help the digestive system, but

it is also beneficial

in reducing the risk of diabetes, heart disease, and cancer. High-fiber foods include whole-grain bread, flaxseed, and lentils.
Low-fat dairy products: Low-fat yogurts, milk, and cheeses are a great source of calcium and help maintain bone health.
Whether you cook your own meals or enjoy the dining services of a senior living community, it's important to know the value of nutrition and what foods you should be eating for a healthier you!
The Importance of Eating Together
Not only is what you eat essential but so is how you eat and who you eat with. In fact, experts suggest that gathering together and sharing a meal has mental and physical health benefits!
Shared mealtimes are when we relax with family and friends, reflect on our days and memories, and create new relationships and bonds. The simple act of sharing a meal is enough to create a sense of belonging and intimacy while reducing feelings of anxiety and loneliness.
Furthermore, a regular mealtime provides structure and routine throughout the day, which is especially important for older adults living with Alzheimer's or other memory impairments. A familiar schedule of shared meals can give these individuals something to look forward to every day.
Whether it's at home, a friend's house, or a senior living community, gathering around a table for mealtimes is an essential part of maintaining a healthy, social, and connected lifestyle.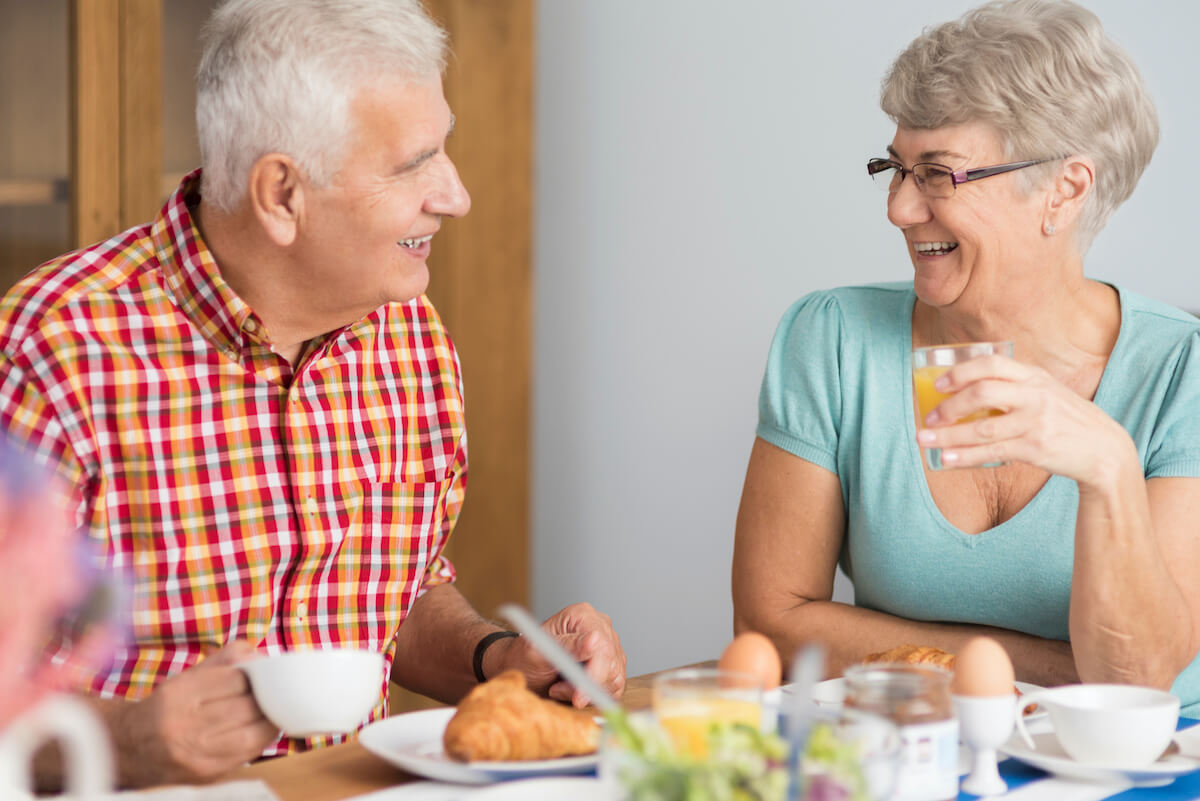 Dining at a Senior Solutions Community
Senior Solutions Management Group knows the importance of both nutrition and socialization for older adults, and we've implemented them into dining at our communities. Every aspect of our dining experience is purposefully created to ensure our residents are receiving proper nutrition, service, and socialization. Here are some things you can expect from the dining experience at a Senior Solutions Management Group community.
A Relaxing Dining Atmosphere
Since Senior Solutions Management Group has communities across the southeast United States and the dining environment varies from community to community. However, we want residents in every community to feel like they are eating at an inviting restaurant. When residents sit down for meals, they will have a comfortable table setting with friendly servers.
Creating a comfortable and relaxing dining experience is important to us as we believe every resident should be treated with respect, dignity, and the highest quality of service. We want to provide each resident with a life of convenience and enjoyment—creating a worry-free lifestyle that they deserve.
Nutrition and Health
We know how important a healthy and balanced diet is to wellness and vitality, which is why we incorporate nutritious options into our meals. Chefs at our communities thoughtfully plan each meal to ensure residents are getting the adequate nutrition for their personal dietary needs.
We know that malnutrition and dehydration are common and serious issues for older adults, so our care team ensures that residents are eating properly throughout the day, providing snacks and alternate options for meals.
We also provide specialized dining services for our memory care residents—offering assistance while eating and offering customized menus based on preference and need.
Family is Always Welcome
Taking into consideration the importance of dining with friends and family, Senior Solutions Management Group communities always welcome family members and guests to dine with residents. Even though you may not be able to gather at your own home for holidays or celebrations, you can still celebrate them at the convenience of a Senior Solutions community.
Visitors are always welcome to join their loved ones for a meal, allowing families to continue with special traditions and memories. In addition, we encourage residents to socialize and share meals with each other, creating lasting bonds within the community.
Experience Our Dining First Hand
Whether you're creating a new recipe in the kitchen, discovering a new favorite food, or enjoying precious time with family and friends around the dinner table, eating is a significant part of life. Here at Senior Solutions Management Group, we recognize the value of a nutritious diet and a comfortable dining atmosphere. We incorporate these elements into everything we do, creating a welcoming, delightful, and healthy dining experience for everyone.
If you or a loved one is considering transitioning to a senior living community, don't forget to consider the importance of the dining experience. The best way to determine if the dining experience will meet and exceed your expectations is to visit prospective communities and see for yourself.
We invite you to request a tour of a Senior Solutions Management Group community near you. This will allow you to not only tour our community but to experience out dining first hand. We have communities throughout the southeast in Georgia, Louisiana, South Carolina, and Tennessee. Visit our communities page to find a location near you, schedule a tour, and join us for dinner. We can't wait to show you around!
Updated on September 1, 2020