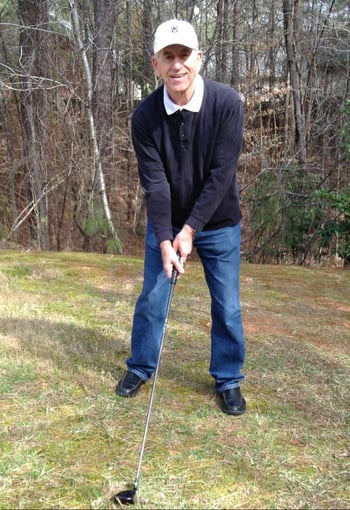 Father's Day is when we honor our fathers and thank them for all they've given us. When Dad is in an assisted living community you might be worried that the celebration will be ignored.
Rest assured, a vibrant community embraces reasons to hold celebrations and Father's Day is no exception. One of the most popular community Father's Day celebrations is a barbecue. Many times it is combined with fun outdoor activities like horseshoes, corn hole, croquet or shuffleboard. To be sure, games of dominoes, Uno, bingo, gin rummy and bunko can always be found at the picnic tables. Getting residents, family members and the surrounding community together for food, fun and outdoor time is always a plus.
Related: 10 Great Sports and Game Activities for Seniors in Assisted Living
Sometimes it is a day for a field trip. If your father is in good health, it's the perfect time for a nice lunch out, a movie, a baseball game or just a visit to your home. While the day-to-day may be challenging and require Dad to reside in assisted living, the chance to get out and have some good time with family and friends does wonders for their spirits.
But what to get him? His living space may be smaller than his former home and needs change as they age. Here are some great senior gift ideas that Dad will use and enjoy in his assisted living community:
Robotic/mechanical grabbers – these tools help Dad reach and grab items he may have dropped or are out of reach - with ease.
Large print puzzle books – crossword, word search, Sudoku, or whatever his favorite one is – bring him several to fill up until your next visit.
A new deck of cards or new games - retirees love to play games and will just flat wear out their cards and games. Try getting Dad a deck with large print.
DVDs of their favorite old movies or a subscription to Netflix.
Portable DVD player – often easier to use than a big tabletop one that is too heavy for Dad to move.
iPod or other MP3 player with his favorite songs and noise canceling headphones.
Novels – Get Dad the latest from his favorite authors.
Digital Picture Frames – Load a bunch of new photos in with every visit and show Dad how to operate it (write the instructions down).
Laptop or tablet - If Dad is tech savvy, make sure he has an up-to-date system. Facebook is fun for those with less outside interaction. They can see all the pictures and news family members post.
Skype – introduce techie Dads to Skype if they are not already on it. It's a fun way to stay in touch with loved ones that can't visit that often.
But the best gift is time with loved ones. If family lives out of state or a few hours away, Father's Day is the perfect time to visit and spend some good time catching up. Wondering about the activities and celebrations at assisted living communities in Tennessee, Georgia, and Florida? Contact Senior Solutions for a tour of one of our communities today.