"Just an old sweet song keeps Georgia on my mind." This line, from the famous song "Georgia", was made popular by the legendary Ray Charles. It's the official state song of Georgia, and represents the view's of millions of people who choose to live in this beautiful state. It is known for its sunny, subtropical climate, mild winters, many lakes and rivers, beautiful forests, and world-class healthcare and other amenities available in the city of Atlanta. Georgia assisted living is becoming an increasingly popular choice for families seeking care for their loved ones.
Since you're reading this blog, you've likely begun to do some research into various assisted living options in Georgia. As you probably already know, assisted living communities provide long-term living arrangements for seniors who need some assistance with the Activities of Daily Living (ADL). But, not all assisted living centers are created equal. Here are some important factors to consider as you look for the best assisted living options in Georgia for your elder loved ones.
Georgia Assisted Living Costs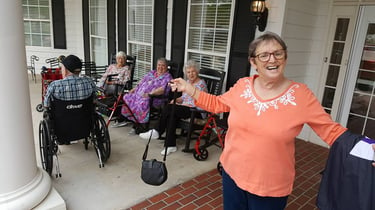 Overall, Georgia has a moderate cost-of-living, and that applies to assisted living as well. The annual Genworth Cost of Care survey tracks care costs around the country. In its 2014 survey, the state of Georgia had a monthly assisted living median cost of $2500, which is a full $1000/month less than the national median cost. In some areas of the state, such as the beautifully wooded town of Warner Robins, assisted living can cost even less than $2500/month.
All the Comforts of Home
Your loved ones took care of you as you were growing up, so now it's your chance to return the favor. Help them to find an assisted living environment that feels as much like their own home as possible. For example, look for a community that offers large and cozy rooms, privacy, and the ability to decorate with personal furniture and accessories.
It is important to make sure that while the community feels cozy, it is also safe. A tour is a great time to inspect the cleanliness of various areas. Also, be sure to check that the common areas are safe for people of all mobility levels.
Personalized Custom Care
Make sure that staff are highly trained and able to provide personal care services custom-designed for your loved one. Not all assisted living communities offer a high level of individual care, so seek out those that do.
Access to Major Healthcare
Sometimes it's important when evaluating assisted living options in Georgia to find one that's near major healthcare centers. For example, Country Gardens in the Union City area is located only 17 miles from Atlanta. This grand Victorian home is nestled in the trees on a spacious property. It is also accessible to local and metropolitan hospitals, restaurants and world-class shopping.
Each of our Senior Solutions Management Group communities in Georgia is staffed with highly-trained professionals. When searching for senior living, it is important to understand the community's health and safety plans. During a tour, our staff can discuss with families safety and emergency protocols and how they would affect your loved one's specific health needs.
A Continuum of Care choices, Including Dementia Care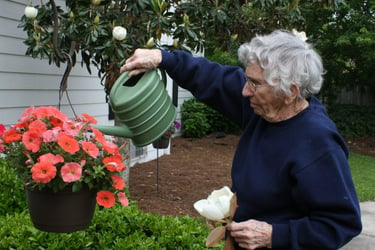 One of the best choices you can make for your elder loved one is to find a senior community that provides the security of a permanent home. An ideal situation would be a community that provides different levels of care to residents based on need.
Many of our Georgia communities provide combinations of independent living, assisted living, and dementia care. These services are provided in a secure environment, all in one community setting. If your loved one in assisted living is at risk of developing an Alzheimer's or other dementia related illness, many families can take comfort in knowing that they will not have to move mom or dad to a strange new environment.
If your loved one is in need of memory care services, finding a secure setting that still feels like home is vital. One of the best types of dementia care communities offers a cozy "village" setting. Each village accommodates a small number of residents, to create a safe family atmosphere. The villages usually have their own kitchen, dining and activity areas. Additionally, expert activity directors who specialize in elder care and dementia are crucial. Stimulating activities that meet the needs and abilities of residents at varying degrees of memory loss and cognitive function are crucial.
Start Your Search With Senior Solutions
Finding the best Georgia assisted living options can be simplified, when you know the right questions. What concerns can we help answer? Contact us today with any questions, or to schedule a no-obligation tour of one of our affordable communities.
Click a community below to visit that location's page: