Many families cope with the increasingly challenging stages of Alzheimer's or dementia progression easily, while other families struggle when their senior loved ones need more care than they are able to provide. When the time comes to relocate Mom or Dad, a high quality memory care center can be a blessing to your family. You can still be involved in their care, but have extra support and encouragement that your loved one needs. As your family learns to cope with the diagnosis, stages and care challenges, know that with proper alzheimer's and dementia care there are 5 reasons you can rest easier.
Solid routines
When a loved one suffers from dementia or Alzheimer's, they find great comfort in regular routines. Living in their own or another's home provides some structure, but everyday life can get in the way. In a memory care community, routines and schedules are more easily planned and followed giving seniors the stability that soothes their illness.
Focus on safety
Our memory care communities are focused on the safety of your senior loved ones. When they get to the point where they don't remember to bathe, take their medications or have gotten lost, their health and safety become a bigger issue. These events can seem small in comparison but when put together, can be a concern. When they are in the care of a watchful community that will communicate with residents and family members alike, you can rest a little easier.
Manage their care versus giving it
When you are the primary caregiver, sometimes it feels like you are just putting out fires. Life starts to feel like a never ending circle of crisis management. When your loved one relocates to a Memory Care Center, you can transition from being the one providing their care to the one managing it. No longer will it all fall on you and you can focus on things like specialist or therapist appointments, occupational or speech therapy options and much more.
Enjoy your time together
The symptoms demonstrated by an Alzheimer's patient varies by person. Many at-home caregivers start to realize that they spend less quality time with their loved one's and more time taking care of basic needs. When your loved one resides in a community that specializes in caring for dementia patients, day-to-day tasks are handled by the staff. You can then focus on sitting down for chats, playing board games, or just enjoying each other's company.
Life enrichment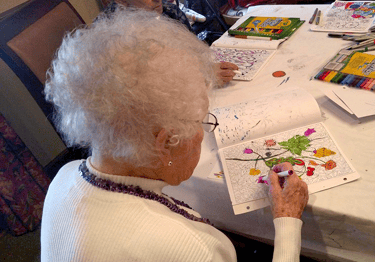 Often when memory becomes an issue, seniors will isolate themselves in fear of making a mistake, forgetting someone or something. That self-doubt can compound into them avoiding activities that they enjoy like art, bible study, dancing, or lunches out. A memory care community can provide structured, safe activities for all care levels. The Activity Directors will work to promote healthy minds and bodies, but also promote resident socialization and overall human interaction.
Find High Quality Memory Care for Your Loved One
It is difficult enough to watch your loved ones slip away, the memories of a lifetime fading as time passes. Their ongoing care should not be a worry. Relocating your loved one will bring the respite and peace of mind that the entire family needs. Would you like to schedule a personal tour of one of our memory care communities? Learn more about what makes Senior Solutions communities can provide the routine and care that your loved one needs.
Click here to view a list of our high quality Memory Care communities in Georgia and Tennessee.