Summer is one of the best times of the year for outdoor living and soaking up the sun. Summer also brings hot weather, which can be dangerous for certain people, including seniors. Hot summer weather can be risky for seniors who live alone, but it can be more enjoyable when compassionate and talented caregivers know the appropriate way to help them beat the heat. Here are some of the ways that assisted living communities can keep your loved ones safe and happy in the warmer months of the year.
Go Outside in the Morning
Getting regular exercise is an important part of staying happy and healthy at any age. Getting some fresh air is also crucial to boosting your mood and avoiding cabin fever. But exercising outdoors during the summer can dramatically increase the risk of getting overheated and causing problems like heat stroke.
This risk can be minimized by going out to exercise early in the morning, before the heat of the day. Activities like walking, biking and yoga are gentle and effective, and can be safely performed in any environment, including in the great outdoors.
Stay Hydrated
The most important key for people of any age when it comes to surviving summer and beating the heat is to stay hydrated. Avoid caffeine, which can not only cause insomnia and agitation, but can also contribute to dehydration. While it's nice to have fun summer drinks on special days, also make sure that you and loved ones drink more water than normal during the hottest days of summer.
It can be difficult to make sure that you drink enough water, and can be even more difficult for seniors to do so, particularly when memory issues are involved. The high quality staff at your parent's assisted living facility will be sure your parents are getting enough water to avoid the risks of dehydration.
Stay Cool
Air conditioning isn't just a nice luxury when it comes to senior health; it's absolutely essential. A lot of older homes don't have quality air conditioning systems, and even seniors whose homes have air conditioning may avoid keeping their homes cool enough because they want to be frugal and conservative.
Assisted living facilities have a great quality of life, including comfortable, air conditioned rooms and communal areas. We help make sure that your parents stay cool, no matter the weather.
Related: Learn More About the Care Levels We Offer
Work Out in the Water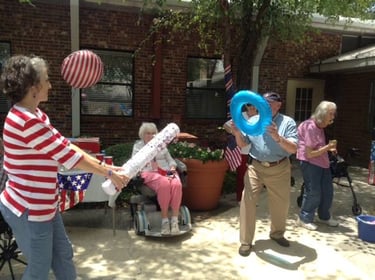 You can combine exercise and cooling off, all at the same time. Working out in the pool is great exercise, especially for people who are dealing with old injuries and issues like back pain. Assisted living staff can help your loved ones work out in water and cool down while they're also getting enough exercise to stay healthy. It's really the ideal summer activity!
Most people think that winter is the only season that can be risky for seniors, but summer requires some active management, too. When you choose the right assisted living community, you will have more peace of mind because you won't have to worry about whether or not your parents are safe and well cared for.
Contact us today to learn more about how we are your partner in treating your loved ones as well as you would.