Making the decision to move from the family home to an assisted living community is a difficult and emotional event for your parent. This is a significant transition point, and there is likely to be sadness over leaving the home. But it's a decision that many families successfully make, especially those who prepare for this day. Here are a few tips from senior care experts, who often provide guidance to families on how to talk to mom and/or dad about joining an assisted living community.
Start the conversation early to avoid crisis conversations.
Too many families put off the discussion about moving because it's a difficult and emotional topic. But delaying may lead to a crisis point, when dad falls at home, or mom has a mild stroke, requiring ongoing caregiving. One eldercare specialist notes that ninety-five percent of her clients come to her in crisis situations. The result is confused elders and a family in chaos. Avoid such situations by starting the assisted living conversation early, before it's essential for dad to make such a move.
Educate yourself about assisted living.
You may wish to make appointments on your own and tour some assisted living communities in your parents' area so you truly understand what your parent's life would be like in such a community.
Do some research to find out which communities are the highest rated in the area where mom or dad will want to reside.
Talk about it regularly.
No, you don't need to bring the subject up at the Thanksgiving table; but do find time to regularly sit or chat on the phone with mom and ask her gently how she's handling the home responsibilities and if she's feeling comfortable about her safety and health issues. And don't argue with her about this issue, because that will make mom dig in her heels and resist the idea of a move even more.
Express your concerns and worries.
Most parents don't want to be a burden to their children. When you talk to a parent about joining an assisted living community, be genuine and honest about your concerns and worries for dad's safety and well-being. Don't demand that he do something, rather say that you want him to be OK because you love him.
Language matters.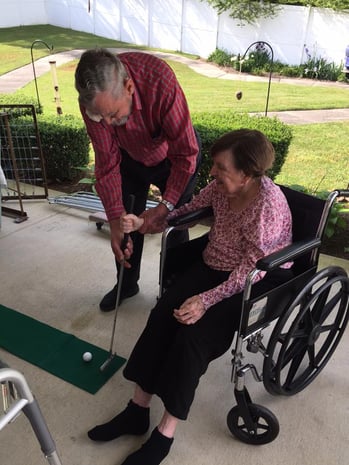 The term "facility" may conjure up negative visions for mom of seniors sitting alone in a corner with no one to talk to and no one that cares about them. When you talk to her, use the term "community" instead of "facility" to describe assisted living - because that's really true for many of today's assisted living communities. They are active, vibrant places where seniors can engage in meaningful activities and stay connected to their family, friends and other residents.
Also, avoid using the word "room" to describe assisted living housing. Top-quality communities offer a range of living options that can be quite comfortable and accommodating to mom's furniture and accessory collections.
Invite them to take a no-stress tour.
Tell mom that you've heard really good things about XYZ assisted living center and would love it if she would join you for a tour of the community. Let her know that this is an information-gathering session, and there will be no hard-sell to sign her up then and there. Many communities invite prospective residents to join other residents for lunch or dinner.
Finding the right assisted living community is an important and loving act you can do for your parent. Contact us today to schedule a no-obligation tour of one of our communities!