Maybe your loved one is not getting around as well as he or she used to. Perhaps, you're concerned about their medications and safety. No matter what causes caretakers to begin considering moving their loved one to assisted living care, there's no doubt many questions arise in the process. As a result, those who have not considered senior care before may wonder what to expect from an assisted living community.
The Assisted Living Environment
A thriving community provides enriching activities in a safe environment for seniors. Each resident or couple lives in their own studio, one-bedroom, or two-bedroom apartment. Additionally, they have their own set of keys to come and go as they desire. The community typically provides meals in a restaurant-style dining room to increase social interaction of residents. Residents usually select their meals from several different meal options. Nevertheless, most units may also have kitchen or kitchenette facilities inside them for residents who enjoy cooking for themselves.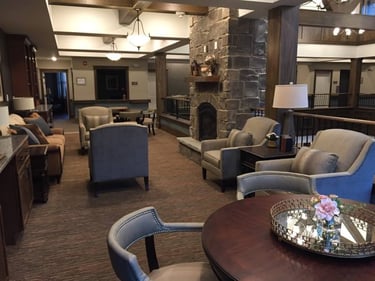 Additionally, there are public areas of the community for seniors to relax and socialize. These can include a living room or common area, library, fitness room, activities room, beauty and barber salon, gardening, outdoor seating areas, theater, private dining room, and snack bar. Furthermore, exterior doors of the community remain open and unlocked during regular business hours, allowing residents more freedom. However, keep in mind that visitors most often check in for security purposes.
What kinds of services are offered in assisted living?
The services that seniors receive in assisted living include a variety of care levels that depend on residents' individual needs. For example, assistance can include all of the following:
Bathing – Standby for safety or full assistance with all bathing
Dressing – Standby for safety or full assistance with clothing selection and dressing
Grooming - May include assistance with brushing/combing hair, shaving, brushing teeth, etc.
Medication - The staff stores, administers and re-orders residents' medications
Toileting – Standby/transferring assistance for safety when using the restroom. In addition, staff can provide reminders, assistance with incontinence products, and hygiene after toileting.
Transferring - Standby or one-person assistance with moving from bed or chair to a walker or wheelchair. Additionally, this can include escorting residents to and from meals and activities.
Personal laundry - weekly housekeeping includes laundering of bed linens and towels
Pet care
Scheduling medical appointments
What kind of care does my loved one need?
Assisted living communities are regulated and licensed by each state to provide a specific level of care. However, for the safety and proper care of loved ones, there are times when they may need to relocate to another care setting to ensure they receive the care that fits their needs. Such moves will protect the safety, security and well-being of all residents. For example, the symptoms below usually require a higher level of care than assisted living communities provide:
Aggressive, inappropriate behaviors or wandering, often a result of an increasing level of dementia or Alzheimer's (memory care communities are a better fit for these concerns)
Sliding-scale diabetes requiring close monitoring and insulin injections administered by a licensed nurse at varying intervals
Inability to transfer without the assistance of two persons
Incontinence not resolved with reminders/products and a toileting schedule
Intubations including in-dwelling catheters, feeding tubes, colostomy care
The Goal of assisted living
Most of all, the goal of assisted living is to provide an enriching environment where senior loved ones feel safer, and offering peace of mind for seniors and their families. In addition to ensuring residents' safety, these communities also encourage active seniors to maintain the greatest level of independence possible while receiving assistance with daily activities.
Do you have questions about any of our communities and what they can offer your senior loved one? We have independent, assisted and memory care communities in Georgia and Tennessee designed to ensure the safety and life enrichment of your senior loved one. Contact Senior Solutions to learn more about our services and communities.