Located just minutes away from Knoxville, Tennessee, Alexander Guest House offers full service Assisted Living and Memory Care options. Everything includes all-inclusive pricing with no length-of-stay contracts and no hidden fees.
about Alexander guest house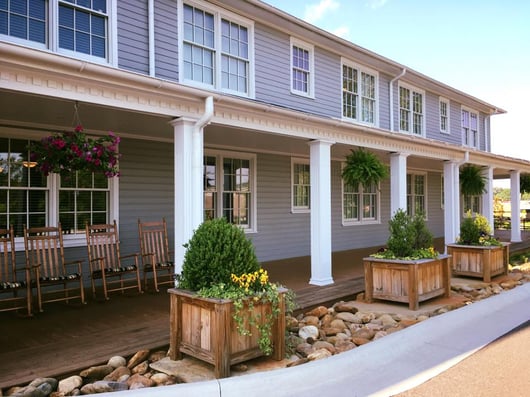 Originally known as "The Guest House", Alexander Senior Living occupies the historic building in Oak Ridge, Tennessee that was built during the Manhattan Project to secretly house official visitors during the construction of the atomic bomb that ended World War II.
The amazing hotel, which had fallen into deep disrepair, went under a multi-million dollar transformation. It is now one of the region's most spectacular Senior Living Communities.
assisted living at Alexander guest house
At Alexander Guest House, we strive to foster an atmosphere of dignity, independence, purpose and activity for our residents. Our highly trained caregivers specialize in all-inclusive, highly personalized attention for every person in our care.
Simply put, we promise the quality of life experience at Alexander Guest House will be second only to your own home. The entire staff is available 24 hours a day to attend to the needs of the one you love.
memory care at Alexander guest house
The Retreat at Alexander Guest House is our special Memory Care program. We offer a bright, inviting and secure environment that includes a large outdoor garden area. Our trained, understanding and loving staff will use a compassionate approach with residents. We strive to foster an atmosphere of dignity, independence, purpose and activity for our residents with Alzheimer's disease and other types of dementia. We maintain a higher care staff-to-resident ratio in order to attend to the individual personal needs of each of our residents.
Would you like to learn more about Alexander Guest House for yourself or a loved one? We'd love to meet you and answer any questions you may have. Please, schedule a tour today.