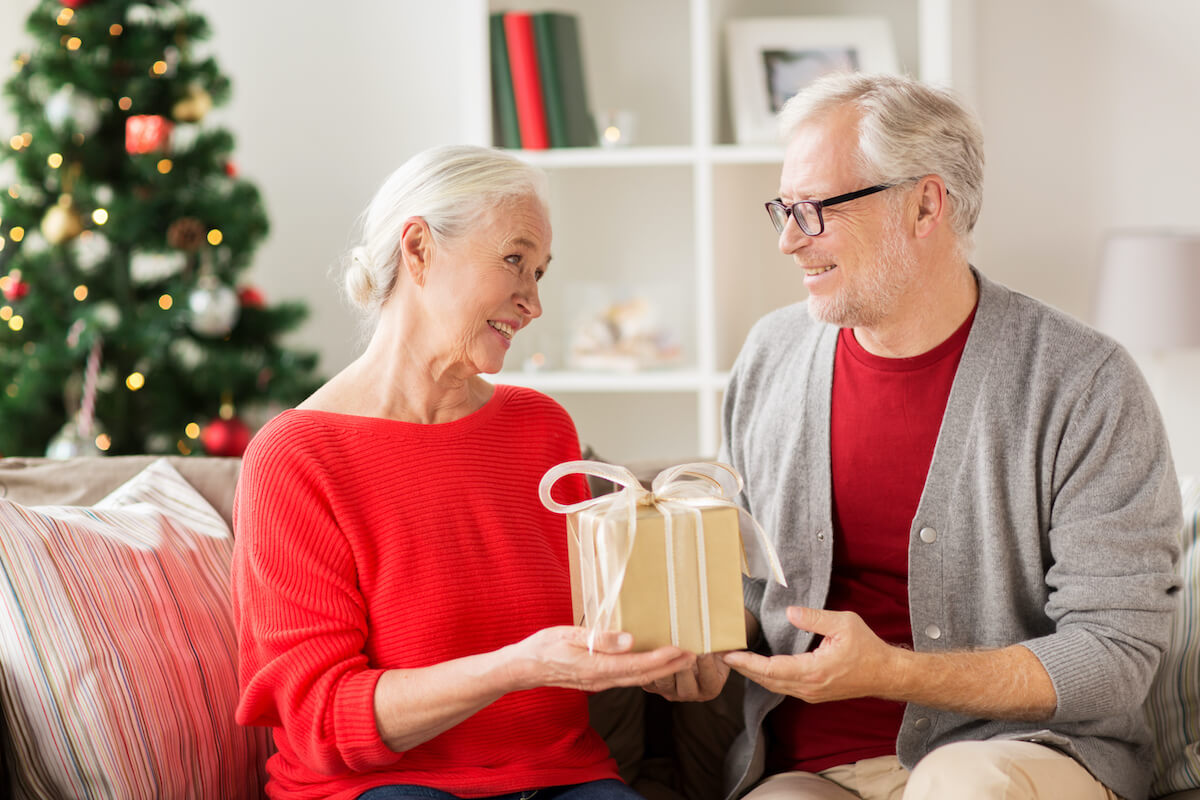 Holiday season can be a lonely and melancholy time for loved ones who have moved to a senior living community and miss their spouse, family home and family traditions.
In fact, studies show that the holidays are, counterintuitively, a cause of increased depression for many seniors, who may be struggling with feelings of loss and loneliness.
Don't let your mom or dad sink into holiday sadness. Instead, take a proactive approach with their senior living management staff and make sure they have lots of fun holiday programs planned that would appeal to your loved one.
Also, take some time to plan holiday time with your loved one and give gifts that are thoughtful and appropriate for your loved one's current life status, not the life they led as younger men or women. Senior Solutions Management Group is offering some ways to plan a happy holiday season in a senior living community.
Holiday Ideas For Senior Living Communities

Charity
Many of our seniors spent countless hours volunteering in their community for some worthwhile cause. Ask the senior community management or administrators about the possibility of bringing in a Salvation Army Christmas Angel tree so the residents can help a needy child have a happy Christmas. Ask about other local charities that would be willing to visit the senior community and engage with the residents for a worthy cause.
Family Mixer
Seniors love to talk about their kids and grandkids and share photos with the other residents. You can hear it in their proud voices when they introduce family members. Why not plan a holiday party that's a multi-generational family mixer? It's healthy for seniors to mix with people who are younger. Also, it's wonderful for grandkids to keep a connection to their grandparents.
Holiday Ideas For Family Members
Speaking of Grandchildren…
If your loved one has grandchildren in the area, they may not get to see them as often as they would like. Yes, we all have over-scheduled lives, but you can change that and in the process, give your senior loved one a precious gift. How about a homemade certificate from the grandkids committing to a regular visit (with or without their parents), perhaps every two or three weeks? That will undoubtedly make for a happy holiday for your mom or dad.
No Family Drama
Yes, many families have occasional issues with each other. Just for the holidays, put aside any unpleasant feelings and resentments. Make it a happy and peaceful time for your loved ones. Nothing makes them sadder and more depressed than seeing their family fighting amongst themselves. If this means you need an alcohol-free holiday with mom or dad, then so be it! And resolve for the New Year to work out these problems with other family members!
Memory Aids
One of the most frustrating things about growing older is the accompanying memory problems. This is true even for seniors who are not suffering from dementia. So if you do buy some sort of tangible gift, consider something that helps with memory and brain fitness. Maybe it's a handy grocery list pad with attached magnet that mom or dad can attach to their kitchen refrigerator. Maybe it's a computer memory game, if your loved one is computer-savvy.
Enjoy the Holiday Season
Share your time and love generously and take time to think about what your loved ones want most from the holiday season. Prioritize family, forgiveness and kindness and everyone will enjoy a blessed season together.
Senior Solutions Management Group manages all-inclusive senior living communities in Georgia, Louisiana, Tennessee, and South Carolina. If you're looking for holiday celebration ideas for your loved one, contact us today. We'd love to talk to you about some ideas!