Edit: The Alexander Guest House has officially opened since the publication of this blog entry. For latest news about this community, please check out and Like their Facebook page and click here for more information about how to contact this location.
Oak Ridge, Tennessee: also known as "The Secret City," among other nicknames. Established in 1942, Oak Ridge was used primarily as a construction site for the Manhattan Project: the massive operation in World War II that birthed the atomic bomb.
This is interesting, but how does it relate to senior living?
First, some more history. The Manhattan Project, being the secretive and massive undertaking that it was, required a lot of attention from the government. This attention required an important place for officials and scientists to lodge while they were in town. The Alexander Inn would primarily house important visitors to Oak Ridge and was later used as a hotel.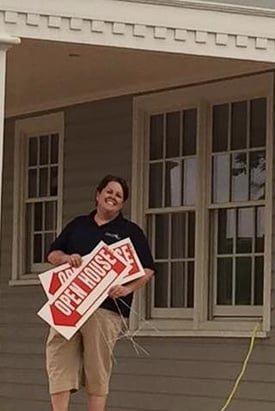 And the senior living part?
Almost there! Until recently, the Inn had been empty since the 1990s. Historical groups lobbied for its preservation while it fell more and more into disrepair. Finally, thanks to a grant from the United States Department of Energy, Rick Dover of Dover Development was able to step in and purchase the building for renovation.
Today, we are very close to celebrating the opening of the Alexander Guest House, one of the newest communities in the Senior Solutions Management Group family. Being an important historical landmark in Oak Ridge, it has gotten quite a bit of attention in the media (see here for an example). However, we believe the Alexander Guest House would not have the following that it does if not for the efforts of Executive Director, Jody Daugherty.
Jody immediately understood the history behind the building and that it was important to the people of Oak Ridge. She took to social media and joined multiple Facebook groups, including the group, "I Remember When in Oak Ridge, TN...Favorite Memories." As a member of this group, she was able to interact with other people from Oak Ridge who were interested in preserving the memories of the historic town. She also shared updates and news articles about the Alexander Guest House and engaged with people who commented and had questions about its progress.
One of her success stories came from the very same Facebook group. One day, as she was scrolling through the memories and photos shared, she came upon a photo of an advertisement titled, "Meet Our New Chef at The New Alexander Motor Inn."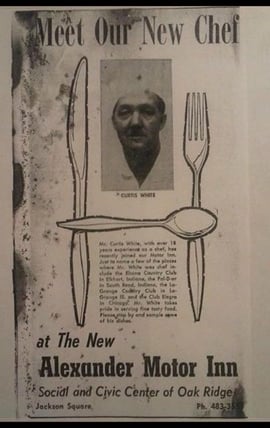 The photo, from a 1964 newspaper, introduced the Alexander Inn's new chef, Curtis White. Jody then found out that the photo was posted by Chef White's son, who was more than happy to chat with her about his family's history with the building.
Jody discovered that many members of the White family had in fact worked at the Alexander Inn at one point or another. In honor of the White family's history with the Alexander, Jody offered to feature one of Chef White's favorite dishes on the opening menu of the Alexander Guest House. Future residents will be able to enjoy a historical recipe of "Braised Beef Tips and Noodles."
Because of Jody's efforts, people have been lining up to take tours of the building, which features historical photographs and other items throughout, and reservations have already been made for people to be among the first to live in the renovated building.
With a total of 63 units--17 of those units in a special Memory Care wing--The Alexander Guest House offers residents full service Assisted Living and Memory Care options, including all-inclusive pricing with no length-of-stay contracts and no hidden fees. Click here to learn more and schedule a tour today!