At Senior Solutions, we strive to make sure every day is overflowing with fun activities for our residents. Our activities are specifically designed to inspire our residents to remain active, and at the same time encourage and promote a strong sense of community.
Our Activity Directors are always looking for creative and entertaining ways to help our residents come together, and every day we work hard to ensure our activities are well-rounded. Our approach to activities is just one of the ways Senior Solutions provides comprehensive and compassionate care for our residents.
A Sense of Community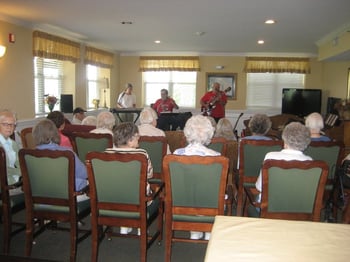 The social activities we offer help bring our residents together. Not only are our residents creating personal connections, but they are supporting each other in ways that benefit their overall wellbeing.
For example, River Oaks Place in Lenoir City, Tennessee had a wonderful Memorial Day event. Our residents were treated to red, white, and blue ice cream floats, live music, and many people shared stories of friends and family who have served in our military.
Activities That Work
Our staff teams carefully plan activities that stimulate your loved one's mind, body, and spirit. Brain fitness activities are believed to help overall cognitive health, while physical exercise becomes more and more important as your loved one ages.
Our residents have many opportunities to participate in brain and body-health activities like Bingo and Mega Bowl. We also offer exercise classes and active social events. You can find many example of some of our past activities by following any of our communities on Facebook. We think you will be pleasantly surprised by how engaged and creative our directors are!
Embrace Today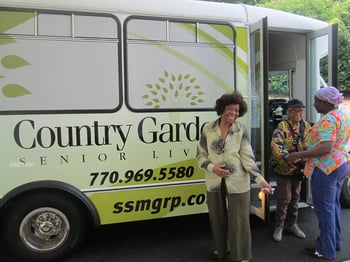 Empowering our residents to live active lifestyles is important to us. In addition to the full range of activities offered on campus, our residents have many opportunities to explore the outside greater community as well. We love to take road trips! Whether it's shopping trips, scenic drives, or just a quick trip to get a milkshake, we want every day in our communities to feel like home.
Our Activity Director at your local Senior Solutions community would love to answer any questions you have about the activities your loved one could enjoy.