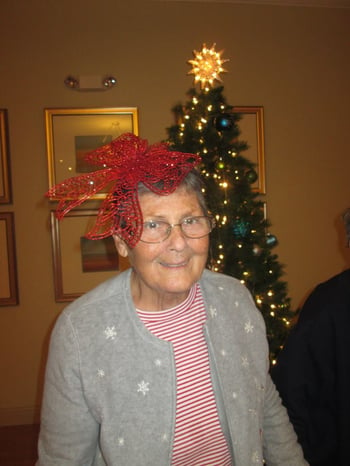 Seniors who have moved into an independent living community spent lots of time and effort to downsize their possessions so they could comfortably live in their new residence. Keep that fact in mind as the holiday season nears and you begin gift shopping.
Though Mom may not say anything to you, it's doubtful that she wants a new knick knack or other items that take up lots of space in her more limited living space. That's not to say that gifts aren't welcome – but you may need to rethink your gift choices in light of the independent living environment. Consider these ideas:
Gift cards
Don't underestimate the appeal of a gift card to dad's favorite local grocery store, restaurant, or bookstore. Further, if dad is internet-savvy, consider an online gift certificate that he can redeem as he shops online in the comfort of his home.
Home cooking
Does your mom love freshly-baked apple or pumpkin pie, but doesn't want to bake any longer? Nothing says love like a home-cooked pie, cake or pastry. Or, if your loved one has a refrigerator with decent freezer space, make her favorite casserole so she can freeze the leftovers for another day. If you don't live nearby, consider sending a delicious food basket from one of the many online food companies.
Stationery Supply
Most seniors still prefer to send written notes over emails, especially to their peers who may not email very often either. Multiple studies conclude that senior health is greatly enhanced when they are connected with family and friends, and a good supply of stationery helps them stay in touch. Put together a gift package of stationery and perhaps a selection of cards (birthday, get well, sympathy, etc) that your loved one can send out as appropriate.
Pet treats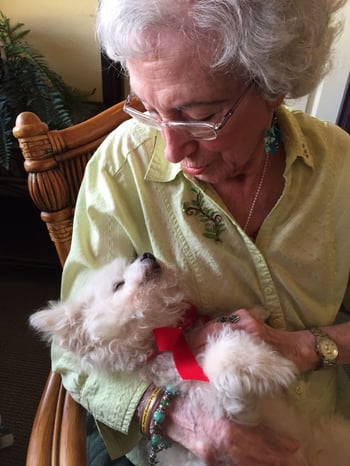 Many independent living communities allow residents to have a cat or dog. If your loved one is a pet owner, consider adding special pet treats as part of your gift package.
Pictures
Updated pictures of the family are always welcome; consider a package of new photos with a front-loading picture frame. This type of frame easily opens in the front and makes it simple for seniors to switch out photos periodically.
Internet 'Visits'
For the senior who is comfortable with computers, think about setting up a Skype or other Voice Over Internet Protocol (VoIP) system on your loved one's home computer. VoIP services allow users to communicate by voice or video over the Internet so you can have face-to-face visits. Make sure clear and readable instructions are provided.
Monthly day road trips
If your mom or dad used to enjoy travel and would still like to get out and about once in awhile, design a gift certificate inviting them to join you for a monthly road trip. Let them pick a location for a day drive and make it a fun outing. Adventurous seniors are guaranteed to enjoy this gift more than any knick knack you could find.
Think about what your loved one enjoys and get creative with holiday giving; they'll appreciate your thoughtfulness and the care you put into gift-giving. What creative ideas have pleased your loved ones?
Want a senior community that feels like home?
Assisted living and independent living don't have to be the stereotypes your loved ones are afraid of. It can be a rewarding and positive experience for the family. Learn how we've combined world-class care with the best practices in assisted living.