One of the best gifts you can give your aging loved ones is the gift of knowledge and preparedness. Especially when it comes to understanding the various senior care options and their associated costs. By doing research in advance, you rest easier, knowing you're prepared both financially and emotionally.
There are three fundamental steps you should take. The first is to understand the various senior care options. Second, research the cost of each option. Lastly, review your loved ones' finances and if necessary, investigate what types of financial assistance may be available for mom or dad.
Senior care can be divided into two broad groups, home care or community care. Let's break down these senior care options further:
Home Care Options
Non-medical home care provides home-based, non-medical help with activities such as personal hygiene, laundry, cooking and transportation. Usually, the aide will visit your loved one several times per week for a two to eight-hour visit. The cost for this service ranges from $14 to $25/hour, based on where you live, with the national average being $19/hour.
With in-home health care, your loved one receives the attention of a trained and certified health aide, who can check pulses, temperature and respiration. They are able to assist with your loved one's medical equipment, such as ventilators. Health aide visits are typically based on medical needs. The median hourly service rate for home health care in 2014 is $20/hour.
Adult day care services are when mom or dad spend the day at a supervised center where health and therapeutic services are provided, along with social activities. Many working families find this to be a good option during the day. The median daily care rate for this service is $65. It's important to understand that adult day care is, as its name implies, only available during daytime hours. If your loved one needs nighttime assistance, that will be an extra cost and a different type of service.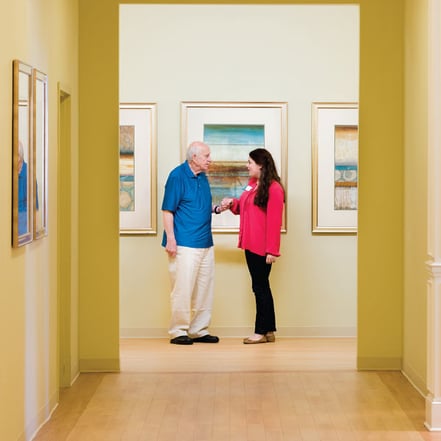 Community Care Options
Assisted living communities are very popular. They provide help with the activities of daily living for those who need it. A vibrant assisted living community offers basic health services, a variety of recreational and social activities, community outings, physical and mental stimulation, meals and transportation. The national monthly average for an assisted living community in 2014 is $3500/month, though this varies depending on the geographic location of the community.
If your loved one needs intensive health care, a skilled nursing residence can provide 24/7 care. This will include all medical, social and housekeeping requirements. Your loved one has the option of a shared or private room. In 2014, a shared room cost around $212/day and a private room was about 15 percent more. This is a more expensive community care option than assisted living.
Continuing care retirement communities (CCRCs): For seniors with the financial means, a CCRC offers a full continuum of care, ranging from independent living to skilled nursing, all in one community. CCRCs offer a full range of services, depending on need, but are the most expensive senior care option, with high monthly rates and a one-time entry fee that may exceed $100,000.
Long-Term Care Insurance (LTCI)
It's true that many of us will need long-term care as we get older. You can purchase long-term care insurance, or LTCI, in advance to help prepare for that possibility. If your parents had the foresight and ability to prepare their senior health care plans this way, LTCI can help to pay for certain types of care, including assisted living and home health care. However, LTCI has some unique eligibility criteria, so you should check with a financial advisor for additional information.
If your loved ones proudly served our country, now it's our country's turn to help pay them back for all their efforts. The VA pension and the military's Aid & Assistance programs can help to pay for medical costs for seniors over 65 years of age who served in World War I or II, the Korean War, the Vietnam War, or the Persian Gulf War. These senior health care plans can pay for long-term care, assisted living and medications that aren't covered by other programs.
Reverse Mortgage
The family home is one of the most valuable assets most seniors have. Obtaining a reverse mortgage is one of the newer ideas that may help fund a senior health care plan. A reverse mortgage issues cash payments based on the balance of the equity in the home.
Senior Line of Credit
A senior line of credit can be a great option for financing a stay in an assisted living facility. The senior line of credit is a useful tool for families who need care immediately. It's for those who need to find a way to pay for care before funds from other plans become available.
There are many possible options for senior health care plans that will make sure your loved one gets the top care for assisted living. Read this blog on how to plan for assisted living costs. To learn about the financial resources available at Senior Solutions, please click here or call (865) 293-6563.