Newspaper headlines reinforce the importance of safety for those residing in senior living communities. In California, three residents of an assisted living home died after eating poisonous mushrooms used in a soup. An elderly woman recently diagnosed with Alzheimer's disease fell to her death from a second floor window at an assisted living center in North Carolina. A Michigan woman living in a senior citizens apartment complex died following a fire on the seventh floor.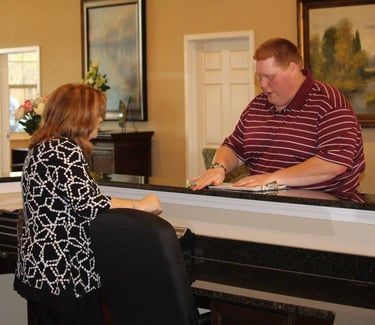 These horrific and preventable incidents highlight the fact that you must pay very careful attention to the physical safeguards and the safety policies and procedures at all senior living communities you consider for your loved one.
Sure, a dynamic activity program is important for seniors, as is comfort and privacy. But none of that much matters if mom or dad is living in an unsafe environment.
A safe and secure community will help prevent accidents and illnesses, as well as financial fraud and elder abuse. Inform yourself by checking out The Assisted Living Federation of America (ALFA), which advocates on behalf of senior living residents. Its Public Policy Positions address safety and oversight issues for senior living communities.
Review state licensure and community inspection reports
According to ALFA, all 50 states regulate assisted living, while independent living must also comply with various fire safety and food service requirements. Ask to see recent inspection reports – if community management is reluctant to provide them, that's a big red flag and you need to try and find out why. Most states publish inspection reports online, so do some research on your own as well.
Check out the infrastructure
Fire safety is regulated by state and local building codes, but it's important for you to verify that fire safety plans and precautions are in place and up to date. Look for smoke detectors and fire sprinklers, in resident rooms and common areas. Older buildings without sprinklers should be retrofitted, says ALFA. Make sure the community has a fire safety plan, fire drills and emergency or disaster plans that are publicly displayed for all residents to review. Ask about staff training on emergency evacuation procedures.
Fall prevention is a priority at good senior living communities. Look for handrails and bright lighting in hallways and common areas. Make sure it's easy to move around using walkers or canes. Look for well marked steps, no loose area rugs that can be tripped over, and safety handrails in the bathrooms.
Related: Fall Prevention: Assessing the Safety of Assisted Living Communities
Investigate staff hiring and training
Elder abuse is sadly, a too common crime in long-term residential communities. Find out what hiring procedures and background checks are done on staff prior to their employment. A good senior living center will run criminal background checks and will not hire anyone convicted of a crime that indicates that person could be a danger to residents. Ask if there are specially trained staff to administer or assist with medication provision.
Look closely at existing residents for signs of elder abuse. According to The National Center on Elder Abuse, there are some less obvious warning signs to look for: broken eyeglasses, physical signs of restraint or punishment; withdrawn or non-communicative residents; unusual behavior such as rocking or biting usually associated with dementia patients.
Safety for your loved one starts with your efforts to become aware and educated on the potential dangers facing seniors in a community residence, and then making sure you and your loved one choose a community with a proactive commitment to senior safety.
To learn more about how important senior safety is to us, please contact us today to sit down with us and take a no-obligation tour of the community nearest you!