It's October! And with the new season comes the first celebration of fall—Halloween! You may think of Halloween as a holiday just for kids, but there are several ways to celebrate, regardless of your age. Looking for fun ways to get in the Halloween spirit? Here are some fun Halloween activities for seniors to enjoy this fall.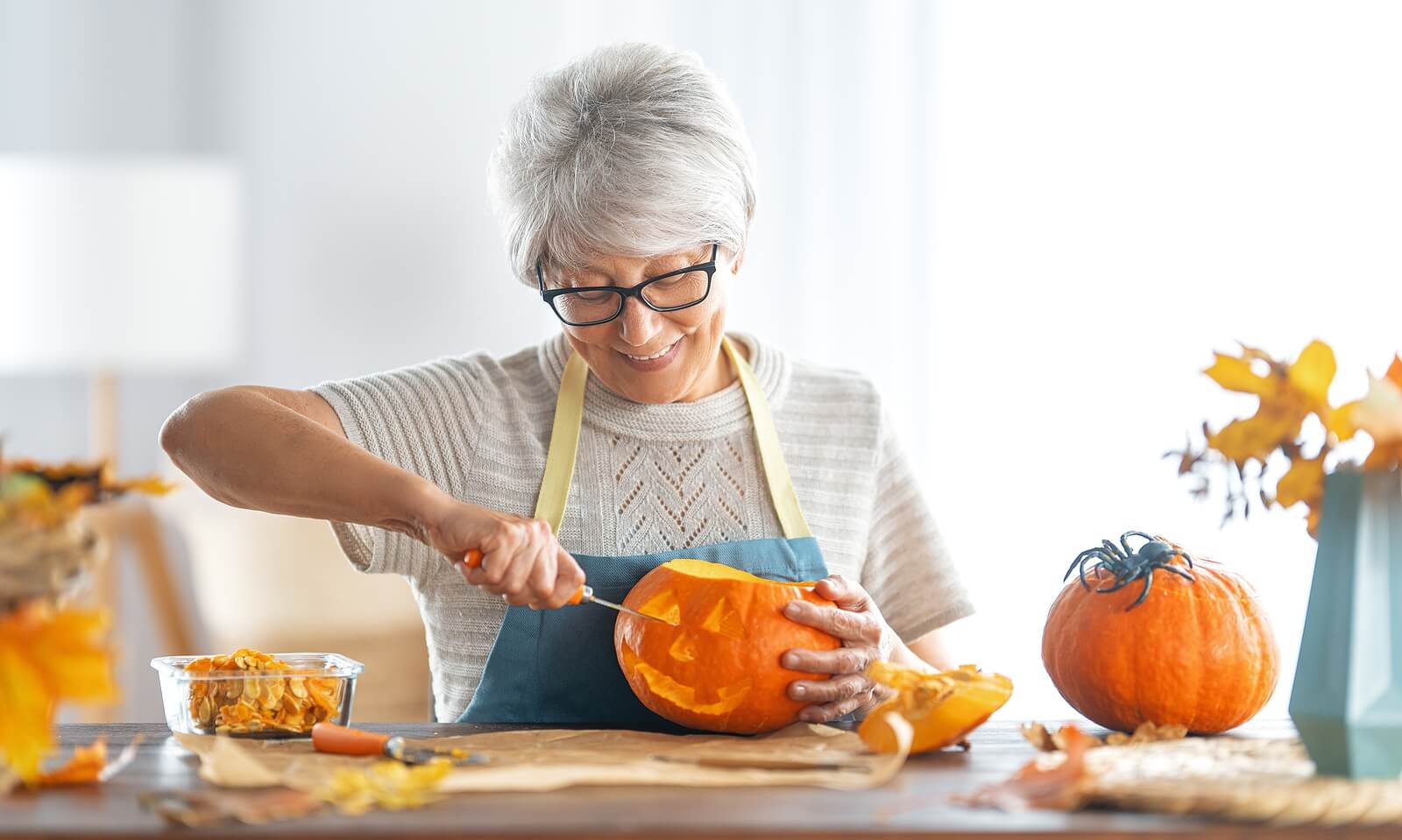 Host a Scary Movie Night
Whether you love classic horror films, like A Nightmare on Elm Street, or something more family-friendly, such as It's the Great Pumpkin Charlie Brown or Casper, it's easy to get in the Halloween spirit by watching some of your favorite spooky movies. Grab the popcorn, turn off the lights and gather with friends for a Halloween movie marathon and make a whole day of it!
Decorate Pumpkins
Pumpkin decorating is a classic fall activity. Carving a pumpkin is one option for creating the perfect Jack-O-Lantern. Alternatively, you can use paint in place of sharp knives to design your scariest spooky face. If you have young grandchildren, ask them to join as a great way to spend quality time together. Display your pumpkins throughout your living space as a fun way to decorate for Halloween. You can even roast the pumpkin seeds for a tasty, healthy snack.
Make a Fall Craft
Love arts and crafts? Consider making a beautiful fall wreath for your door. You can add pinecones, fall-colored leaves and even cut-out pumpkins or ghosts to make it extra festive for Halloween. Other ideas include making a garland out of pinecones or creating a beautiful, fall flower arrangement.
Visit Local Fall Attractions
One way to enjoy the fun Halloween season is to visit your local pumpkin patch. Many pumpkin patches offer a wide array of activities and foods, like hot cider, corn mazes and wagon ridges. Don't forget to pick a pumpkin or two for decorating or baking a pie.

In many areas, October is prime apple picking season. Plan a trip to your local apple orchard as a fun way to enjoy the crisp fall air. You can even use your freshly picked apples to bake a delicious apple pie.
Prepare for Trick-or-Treaters
Depending on where you live, you may decide to hand out candy to trick-or-treaters this Halloween. Take time to prepare beforehand by decorating, making a mixed bowl of candy and putting together a costume for the trick-or-treaters to enjoy! You'll enjoy seeing all the children in their costumes and they will appreciate your treats!
Enjoy the Fall Fresh Air
With the hot summer days behind us, now is the perfect time to get outside! There are many ways older adults can enjoy cooler temperatures and the beautiful changing foliage, including:
Opening the windows and breathing in the fresh fall air
Having a picnic outside with friends
Taking a nature walk in your town
Walking your pet through your neighborhood
You're never too old for Halloween! Whether you love being outdoors, dressing up in costumes or decorating pumpkins, there are plenty of fun things to participate in this fall.