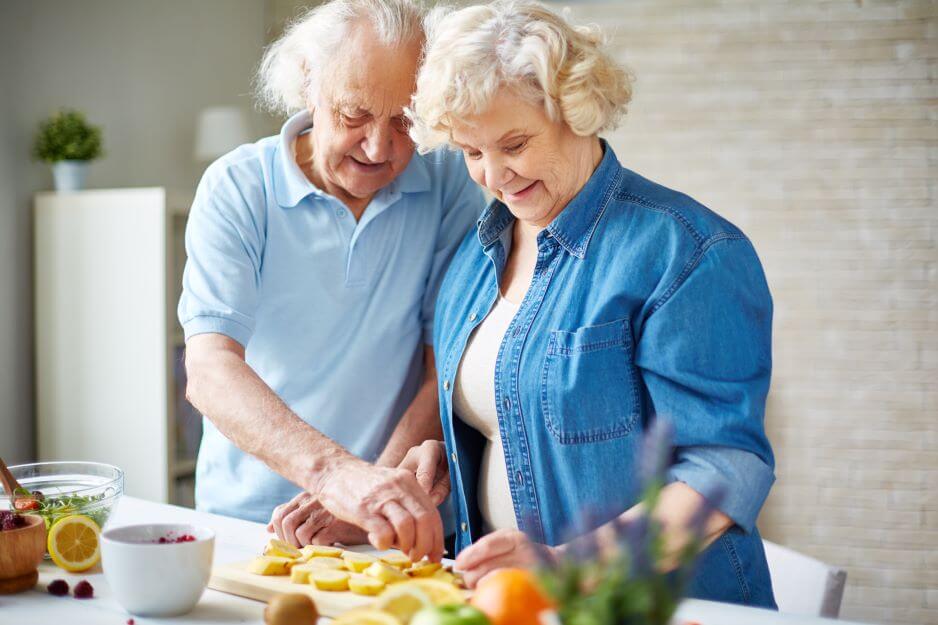 Finding the time to cook a healthy and nutritious meal every day can be challenging. Especially during times where you have to get up and go. Healthy meal prepping can help alleviate stress while giving you a better, healthier diet.
Sometimes it can be easy to skip a meal, but doing this often can negatively impact your overall health and energy for the day. Senior Solutions Management Group wants to provide you with a few healthy meal prepping ideas that are quick and easy to make!
Healthy Breakfast Ideas
The morning is when most people want to get up and go without having to cook, or many may not feel especially hungry during morning hours. Though this trend is incredibly common, it is one that can deteriorate your energy for the day and prevent you from capitalizing on your day as a whole. Here are some quick healthy meal prepping suggestions for breakfast:
Breakfast Bowl
A breakfast bowl can be prepared the night or day before, and only takes around 30 minutes. For this meal, you will want eggs, cheese, and potatoes. You can also add extras into the bowl, such as green bell peppers or onions for more flavor (and health benefits).
Breakfast Sandwich
A breakfast sandwich can be the perfect go-to breakfast item with minimal prepping required. To make this an effective meal, you will want eggs, English muffins [whole wheat], cheese, and any items, such as deli meat or vegetables, you want to add.
Depending on what you use, both of these breakfast items benefit from their usage of eggs. Newer research indicates that eggs are a healthy food item that can provide you with a healthy dose of vitamin D, help reduce the risk of heart disease or stroke, and can help prevent osteoporosis.


Healthy Dinner Meals
Dinner is another important meal of the day that some tend to skip or have later on in the night, near or before bed. Eating too close to when you go to bed does not allow your body to digest your meal fully and can affect your sleep as well as overall health. Healthy meal prepping for dinner can combat the issue of eating late; if meals are already prepared, there is no reason to wait to eat!
Spaghetti and Meatballs
Spaghetti and meatballs is a classic meal that only takes about 30 minutes to prepare and can provide you with multiple servings.
While spaghetti is full of carbohydrates and calories, pasta can keep you full for hours while providing you with a healthy dose of fiber. And, contrary to popular belief, researchers do not believe pasta causes adverse weight gain.
Adding a nice tomato sauce to the dish can add many health benefits, too. Tomatoes are great for the body and can help improve heart health, boost bone health, and have many vitamins and nutrients that are essential to the body!
Honey Garlic Chicken
Another simple recipe that is delicious and nutritious is honey garlic chicken. The key healthy ingredients here are garlic and honey. Garlic is one of the healthiest vegetables and has many proven health benefits. It can reduce your potential for lung cancer, brain cancer, and is a powerful antibiotic that can be used to prevent many different illnesses.
Honey, especially high-quality and organic honey, is high in antioxidants, reduces the chances of heart disease, and can even help wounds heal faster.
Healthy meal prepping can provide you with a more well-rounded diet and can help combat the want to skip a meal due to lack of time.
"A healthy balanced diet is key to wellness and vitality at every stage of life. With age, eating well can also be the key to a positive outlook and staying emotionally balanced. Eating well is all about fresh food, creativity in the kitchen, and eating with friends. Senior Solutions plans each meal with this in mind to ensure residents are getting the adequate nutrition their diet needs (Dining at a Senior Solutions Community, Senior Solutions Management Group)."
If you found this information helpful, we encourage you to visit our Senior Solutions Management Group blog for more senior health topics and tips!