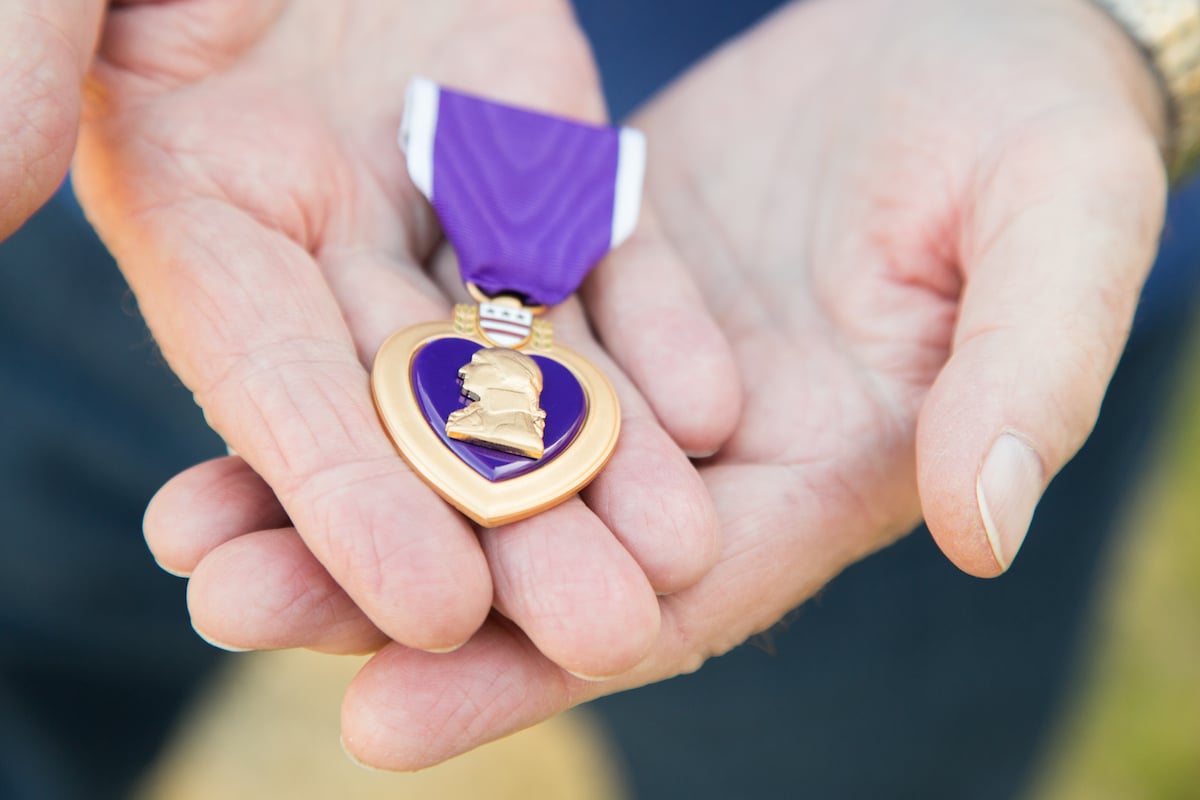 Most of us are familiar with military medals and celebrations, but not everyone may know what each one represents. Throughout history, military awards have evolved to observe and honor acts of service beyond their original meaning. One of these highly honored awards is the Purple Heart.
Every year on August 7th, our nation comes together to observe National Purple Heart Day by pausing to honor the service and sacrifice that the brave men and women of our country offered to protect our freedoms. From veteran and military meetings to Major League Baseball teams hosting pre-game and seventh-inning ceremonies, we all have our own way of recognizing National Purple Heart Day.
Senior Solutions Management Group communities are no different. Within each of our all-inclusive senior living communities, we honor and support each and every one of our residents. Our mission is to do everything in our power to meet the needs and expectations of the members of our communities and help them find the simplest path to enhance their quality of life.
Read Our Blog: A Veteran's Guide to Finding Senior Care
The History of the Purple Heart
What was once called The Badge of Military Merit by General George Washington in 1782 is now called the Purple Heart. While Washington originally intended for this medal to be earned by a "singularly meritorious action," this military award evolved another way.
In 1932, World War One was the first time that soldiers could be seen getting presented with their own Purple Heart. These first Purple Hearts were awarded on the site of the final encampment of the Continental Army in Windsor, New York.
Additionally, there were even more restrictions on who exactly could receive a Purple Heart. According to Military Benefits. Info, "When General Douglas MacArthur signed General Order #3 establishing the modern Purple Heart, it was not authorized to be awarded to anyone except to those serving in the Army or the Army Air Corps. A presidential order signed in 1942 opened the Purple Heart to all branches of the military, including the U.S. Coast Guard."
Criteria for Receiving a Purple Heart
Under General George Washington, receiving the Badge of Military Merit meant that you had performed a "singularly meritorious action." However, the modern-day Purple Heart works a little differently.
In addition to the Purple Heart Benefits awarded to the men and women who earn a Purple Heart, how a person can get one has also changed over time. Now a service member is eligible to receive one of these highly respected medals if they are wounded or killed due to an act of terrorism or in qualifying circumstances where friendly fire is involved.
Why is the Purple Heart Purple?
Whether you have one, a family member does, or even a neighbor, you have likely seen a Purple Heart in person. Have you ever wondered why purple? There are differing theories about its color. It is believed that the award is purple because the color represents courage and bravery, while a newer theory suggests that the purple represents the blood of those who made sacrifices in war.
Purple Heart Benefits
When an individual earns a purple heart, they also receive benefits to go along with it, including:
VA Loan Funding Fee Exemption
VA Medical Care Priority Treatment for Purple Heart Recipients
Exempt from VA Co-Payments
MWR Access
10-Point Federal Hiring Preference for Purple Heart Recipients
College Tuition Waivers for Purple Heart Recipients
Purple Heart Scholarship Programs
Purple Heart License Plates and ID Cards
Finding a Purple Heart
Did you know that there is a protocol for if you find a lost purple heart? It is true, and there are people ready to help you take the next steps in getting it back to where it belongs! Click here to visit and contact Purple Hearts United to help get these treasures back to their rightful owners.
"An estimated 1.8 million Purple Hearts have been awarded since 1932. [Purple Hearts United] receive, on average, 3-5 medals unannounced each week. With every news story covering a return ceremony, our demand continues to grow… With your support, we ensure these medals go home and these stories of heroism, are shared for generations to come (purpleheartsreunited.org)."
To learn more about Senior Solutions Management Group communities, contact a member of our team or visit our website.