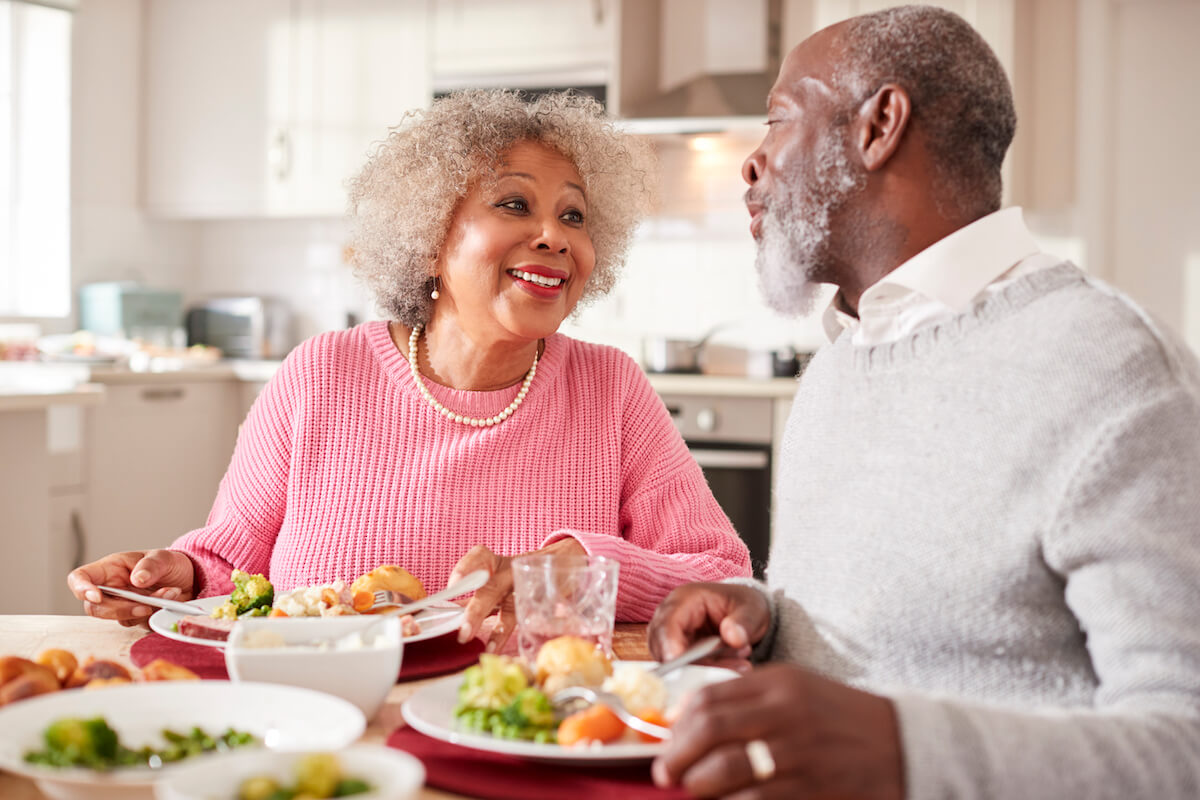 We've all been (or have known) the parents who trick or bribe their picky kids into eating their vegetables. This may be somewhat of a stereotype because the reality is, it can be hard to eat enough fruits and vegetables at any age. According to the CDC, only one in ten adults get the recommended servings—one and a half cups of fruit and two to three cups of vegetables—each day.
Because of health conditions, loss of appetite, and other factors, older adults are at a higher risk for weight loss and nutrient deficiencies. This means that it's even more critical to get the proper amount of fruits and vegetables to promote healthy aging.
What if you don't like the taste, though? Like picky eaters, some adults can't stand the taste of tart berries or cooked spinach. If this sounds like you, you may need to find new (and sometimes sneaky) ways to get your fruit and vegetable servings.
Senior Solutions Management Group offers independent living, assisted living, and memory care services throughout the southeast, and we know the importance of proper nutrition. We are sharing some innovative ways to sneak fruits and vegetables into your diet!
Adapt Foods You Already Love
One of the lower commitment ways to add more vegetables into your diet is to incorporate ones you almost like into foods you love. Toss some roasted broccoli into your macaroni and cheese; add some fresh spinach to your sandwich; throw some peppers and onions on top of your pizza. Doing this can be a great way to introduce yourself to the flavors and textures while still enjoying your favorite meals. (Also, it doesn't count if you just pick around them!).
Recipes To Try:
Fettuccine Alfredo with Chicken and Broccoli: Get The Recipe
Ultimate Veggie Pizza: Get The Recipe
Egg Scramble with Spinach and Peppers: Get The Recipe
Blend Them Into Smoothies
Smoothies are probably the most popular way to add fruits and vegetables into your diet, and for a good reason! Once blended, you can hardly taste the individual ingredients and instead have a creamy, nutritious treat to enjoy. You probably already know that most fruits, like berries, bananas, mangoes, taste great in smoothies, but you may be surprised at what vegetables go great in smoothies as well! Spinach, avocado, beets, and more can be nutritional additions (that also add a vibrant color).
Recipes To Try:
Three Veggie Packed Smoothies for Beginners: Get The Recipes
Switch It Up
You may be convinced that you hate zucchini, but have you ever tried it in "noodle" form? You may be certain that eggplant is the worst vegetable, but what if it's grilled? Many people are confident that they don't like a particular vegetable because they didn't like how they've had it prepared before. However, there are countless ways to prepare them to satisfy everyone's taste! Both fruits and vegetables can be roasted, mashed, sautéed, seasoned, shredded, and more.
Recipes to Try:
Grilled Eggplant with Garlic & Herbs: Get The Recipe
Cauliflower Pizza Crust: Get The Recipe
Spiralized Zucchini "Noodles" with Tomato & Pesto: Get The Recipe
Bake Creatively
It's no surprise that you can add fruits to your favorite baked goods and desserts, but did you know you can also add vegetables? Some vegetables, like avocado, zucchini, and sweet potatoes, can be sneakily added to cakes and brownies. You won't taste them, and in some cases, they even add a mouthwatering richness!
Recipes To Try:
Fudgey Avocado Brownies: Get The Recipe
Sweet Zucchini Bread: Get The Recipe
Carrot Cupcakes: Get The Recipe
Get Saucy
Sometimes, the best way to enjoy fruits or vegetables is raw or uncooked with a good dip. Some people can't stand steamed carrots but will munch on raw carrots and ranch all day. Other people only like grapes if they're dipped in yogurt. Find a sauce that you like, whether it's ranch, hummus, or a sweet fruit dip, and test it out with various fruits and vegetables!
Recipes to Try:
Tzatziki Sauce: Get The Recipe
Garlic & Herb Veggie Dip: Get The Recipe
Cinnamon Yogurt Fruit Dip: Get The Recipe
Enjoy Eating Your Greens
Fruits and vegetables are essential to healthy living and healthy aging, but you shouldn't force them into your diet. Get creative in the kitchen and find meals, snacks, and preparation styles that you enjoy (even if it's only the ones that hide any hint of vegetables). The important thing is to find what works best for you so that eating your fruits and veggies is no longer a chore but something you look forward to.
Senior Solutions Management Group has senior living communities in Louisiana, Georgia, Tennessee, and South Carolina. Our independent and assisted living communities are dedicated to providing information and resources about healthy aging, caregiver tips, and senior living. For more tips and resources, visit our Senior Solutions blog!