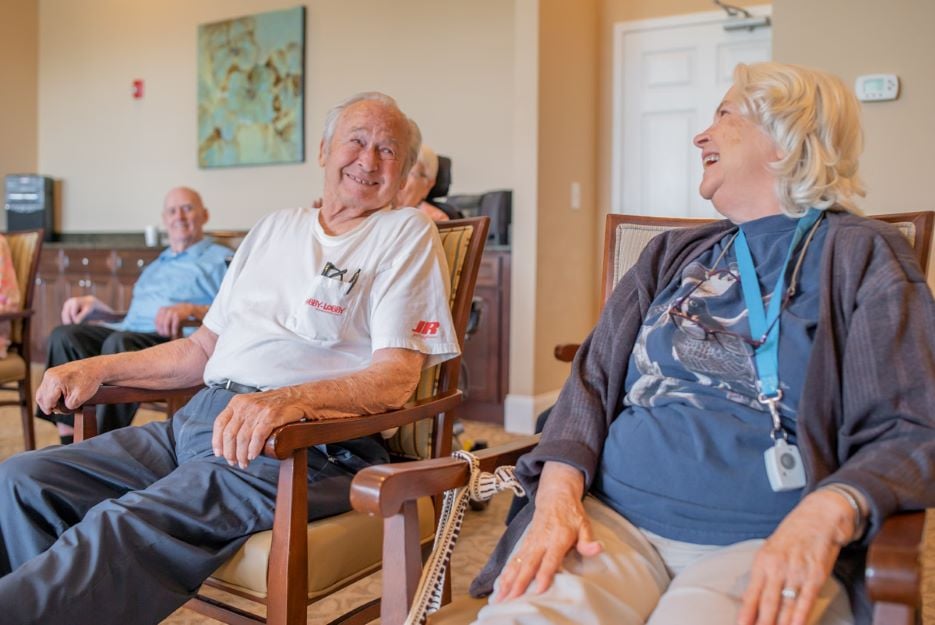 Deciding to move at any point in your life can be a challenging time. In fact, experts consider it one of the top five most stressful life events. Though the process may be stressful, it can be one of the best ways to start a new chapter and yield fantastic new experiences. Senior Solutions Management Group offers all-inclusive senior living in Georgia, Tennessee, Louisiana, and South Carolina. We understand how overwhelming it can be when starting the transition to a senior living community. You are visiting different communities, trying to learn what features and amenities mean the most to you, and making sure to get all your questions answered. For that reason, we would like to give you a few suggestions to help make the most of your tour(s)!
Pay Attention to Staff & Community Members
During your tour, be sure to pay attention to the staff members and residents of the community. You want to ensure you are starting the next chapter of life in an engaging and welcoming environment!
Level of Cleanliness
Though an obvious point, cleanliness is a vital sign of a community's well-being. Many communities will give you a tour of the most presentable and inhabited areas, but if possible, explore less frequented areas. Pay attention to the upkeep of outdoor areas and dining rooms. This community can be the place you call home, and you want to be proud to show it off!
Experience the Dining
While many may not think about the dining experience provided at a community during a tour, it is a perfect time! Check out the dining room, observe the menu, ask questions regarding meal options and dietary needs, and if possible, grab a bite to see if you like what they have to offer.
Visit During an Activity
Before scheduling a tour of a community, see if they offer an event or activities calendar on their website. To get a true taste of how the community works, coordinate your tour during one of these events so you can see what types of engagement the community offers.
Tour the Outdoor Areas
Getting fresh air not only benefits your mental health, it is also host to many physical benefits. While touring a senior living community, check out the outdoor areas available to residents. While some communities have spacious courtyards and gardens to explore, others may not have these things.
Ask Your Questions
Don't be afraid to ask the staff and residents questions! Your questions can range from safety and security to personalized health. Any concerns or questions you have should be answered before the tour is over. The staff at these communities should be more than willing to answer your questions, so don't be shy!
Trust Your Gut
After completing a senior living community tour, you should always think about the overall experience.
How was the atmosphere?
What are the pros of this community? What are the cons?
How do you feel after touring this community?
Touring a senior living community is a process, but by following these tips, you should be one step closer to finding your ideal community!


If you're beginning your senior living community tours, Senior Solutions Management Group is home to over 15 communities throughout Georgia, Louisiana, Tennessee, and South Carolina. Our communities take a refreshingly simple approach to care and feature a wealth of stimulating activities, amenities, and services that can enhance your retirement. We invite you to find a Senior Solutions community near you and schedule a tour today!