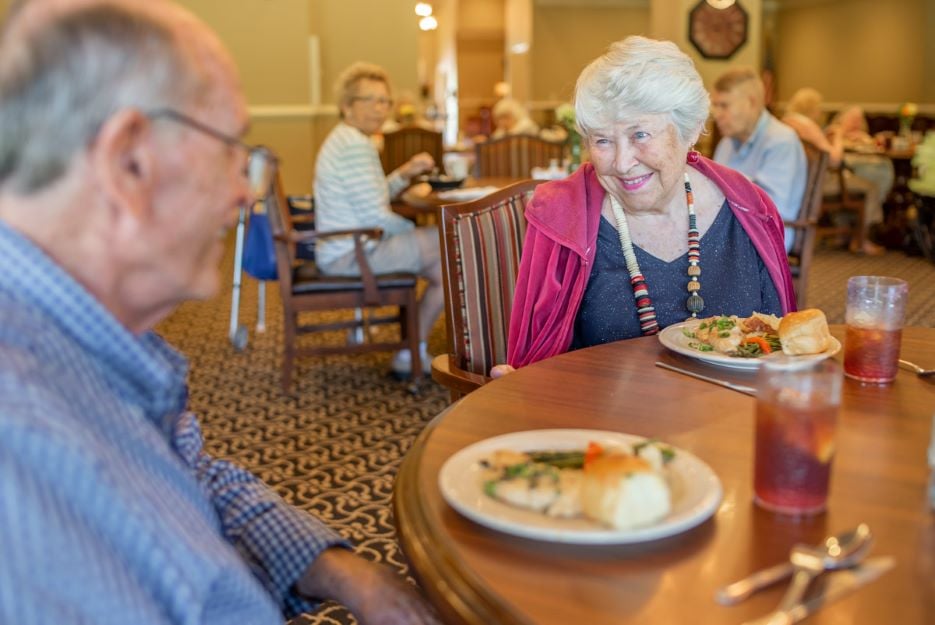 Your retirement years should be a time for you to relax and enjoy yourself. However, homeownership woes can bog down and bring unnecessary stress to your life. With home maintenance, upkeep, and unexpected bills, owning a home as an older adult can hinder your retirement experience. This is one of the reasons why senior living apartments are becoming increasingly popular.
At Senior Solutions Management Group, we understand it can be difficult to move out of your home, but we also know it can open a whole new world of opportunity and experience! Offering senior care communities in Georgia, Louisiana, South Carolina, and Tennessee, we want to share some of the benefits of transitioning to a senior living apartment.
Benefit #1: Say Goodbye to Maintenance and Busywork
Though your home may provide you with comfort, a senior living apartment can do the same, and give you added benefits. The benefits of a stress-free and worry-free lifestyle inside a vibrant and caring community that gives you the retirement you deserve.

One of the main reasons more and more older adults are transitioning into senior living apartments is due to home maintenance. While homeownership is rewarding, it can come with a myriad of maintenance, upkeep, and busywork. Though this can be manageable, as your home grows older, it will likely require more upkeep.
According to the National Mortgage Professional Magazine, the average cost of yearly maintenance is just shy of $10,000. At Senior Solutions Management Group, our senior living apartments are all beautifully designed and well-maintained with no added costs and no extra work for you!
Benefit #2: Say Hello to Convenience and Amenities
Moving into a senior living apartment creates a convenient lifestyle and provides you with amenities you would not experience at home. Our Senior Solutions communities are full of amenities and services from housekeeping to wellness programs - allowing you time to focus on yourself! Furthermore, many of our communities are conveniently located among restaurants, entertainment, and shopping.
Benefit #3: Say Goodbye to Unexpected Costs
Our Senior Solutions communities take an all-inclusive approach to our senior living apartments so that you never have to worry about extra fees or add ons!
Benefit #4: Say Hello to New Friends
Senior living apartments are a perfect way to build new relationships and stay socially active. Many Senior Solutions communities host events and outings designed to engage the mind, body, and soul. Research has shown that social motivation and social contact can help to improve memory formation and protects the brain from neurodegenerative diseases such as Alzheimer's disease or other forms of dementia.


While it can be difficult to decide when it is the right time to move, it can be a worthwhile decision to secure a more enjoyable retirement. Senior Solutions Management Group is a family built business with a refreshingly simple approach to enhance the experience of our residents. If you want to check out one of our Senior Solutions communities throughout Georgia, South Carolina, Louisiana, or Tennessee, visit our website and schedule a tour today!