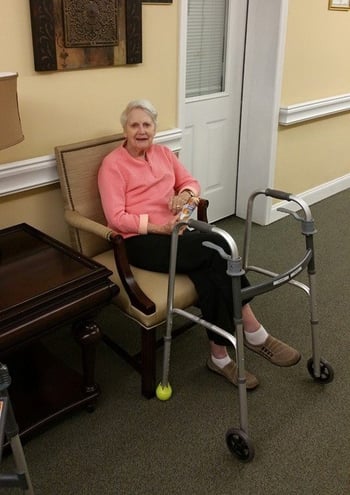 As our loved ones age, we worry about their risk of heart attacks, strokes, dementia, cancer and other serious illnesses. But what we may not think about enough is the risk of Mom or Dad falling. As we age, balance and vision often suffer; further, some commonly-prescribed senior medications can increase the risk of falls.
In fact, falls are the leading cause of injury-related visits to U.S. emergency departments and the primary cause of accidental deaths in persons over the age of 65 years. Fatal falls increase dramatically with age, and in non-fatal cases, cause more than 90 percent of hip fractures in the elderly.
Frighteningly, it's reported that one-third of elderly persons residing in a community setting fall each year. That's why it's important for you to assess the fall prevention measures taken by the assisted living communities you consider. Here are some key things to look for:
In public areas:
Handrails and good lighting should be available not only in hallways but also in common areas such as the dining and activity rooms.
When visiting an assisted living community that has steps, check the bottom step to see if it is lit with recessed lighting or is marked with colored tape so elderly eyes can easily differentiate it.
Assess if flooring is suitable for those using canes, walkers or wheelchairs. Carpet should be low pile with well-secured edges; tile floors should not have irregular edges or uneven grout.
Look for floor clutter that could present a fall risk.
Are there loose wires around telephones, lamps or computer stations?
Common area furniture should not have sharp edges.
Make sure that chairs in activity centers, common areas and dining rooms are steady, roomy and high enough so seniors can easily get in and out of them.
Look for accessible shelving for books or games so your loved one doesn't have to bend, stoop or stretch too far.
In private rooms:
Many of the tips mentioned above apply for your loved one's private space: good lighting, safe flooring, handrails, and secure wiring.
Since Mom or Dad will be downsizing, think about how to safely arrange the furniture in their new home. Be sure it fits properly and doesn't present an obstacle. Remember, it will likely take your loved one some time to adjust to their new home layout; avoid cluttering with "stuff" (even if they love all that stuff) that could cause a fall.
One of the best fall prevention steps you can take is to avoid throw rugs; they are one of the leading causes of falls.
In the bathroom:
Grab bars for fall prevention are essential for the bathtub/shower, as well as by the toilet. Look for these in both public and private bathrooms.
Raised toilet seats are easier for seniors to use. They should be at least 17 inches from the floor.
No-slip adhesive strips in the shower/bathtub help reduce the risk of falls.
Assess whether shower doors are properly fitted so excess water doesn't leak onto floor surfaces.
Sink faucets should be easy to reach and use.
Counter edges around the sink should be rounded.
If your loved one uses a walker or wheelchair, look for adequate free floor space around the toilet: 32 to 42 inches on the side and 18 inches in the front are recommended.
Choose an assisted living community that takes a proactive approach to fall prevention. Tell us about your safety concerns.
Want world-class care that takes fall prevention seriously?
Assisted living and independent living doesn't have to a cookie-cutter experience. Learn how we've combined world-class care with a personal, small-town feel.
Learn more about our communities
, and schedule a no-obligation tour today!