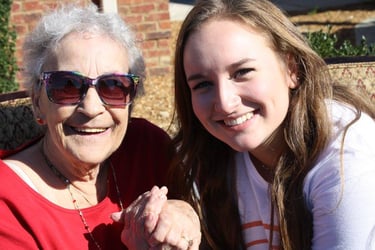 Georgia's moderate climate, reasonable cost of living and friendly residents are just a few of the reasons why it's an increasingly popular choice for those looking for high-quality senior living communities for their aging loved ones. We understand that choosing the right Georgia senior living community can be emotionally challenging. We believe it's important for loved ones and their families to be well-informed about available types of senior living options.
In the state of Georgia, two types of senior communities are often similarly described: the personal care home and the assisted living community. However, there can be important distinctions, depending on the licensing situation. Understanding these differences is critical to making the right, and safest, choice for your loved one.
Licensed Personal Care Homes
A licensed personal care home provides housing, food service, and one or more personal services for two or more adults who are not related to the owner or administrator by blood or marriage. "Personal services" may include individual assistance with or supervision of self-administered medication or assistance with ambulation and transfer. It may also include assistance with essential activities of daily living such as eating, bathing, grooming, dressing, and toileting. Anyone who provides a room, meals, and one or more personal services as defined above to two or more adults not related to the owner or administrator by blood or marriage must have a permit to do so. However, anyone who provides room and meals but does not provide personal services does not require a permit.
Assisted Living Communities in Georgia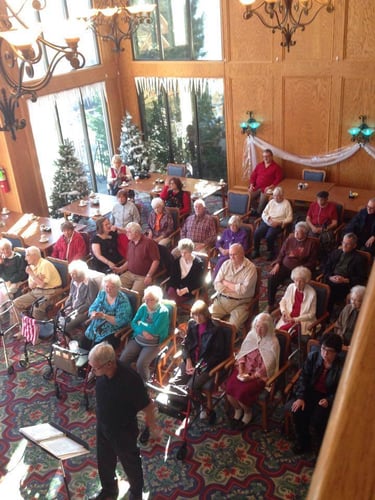 An assisted living community has a license by Georgia's Department of Community Health to provide assisted living care and typically serves 25 or more residents. Additionally, assisted living centers routinely provide a range of personal services, including help with the essential activity of daily living. Their licensing requirements include providing medically-trained aides who can administer medications and measure insulin levels for diabetic residents. Also, they are able to perform other medically-related tasks that residents may need.
How can caregivers tell the difference?
The state has enacted tight licensing measures designed to clarify the differences between unlicensed "personal care homes" and "assisted living" communities. Personal care homes cannot advertise or promote their services as "assisted living" unless they undergo a difficult and expensive licensing process. When you visit Georgia senior living communities, make sure you explore the type of licensing obtained. Check with the Georgia Department of Human Resources for rules and regulations governing the licensing and operation of senior communities.
The best choice for your loved one may be described as an "all-inclusive assisted living" community. These communities invest the resources to enhance the community by including:
An apartment that you can furnish yourself with your loved one's

furniture from home

. If not, then

a fully furnished apartment with everything your loved one needs

Three chef-prepared meals, plus snacks every day
Therapeutic diets with the ability to accommodate special dietary needs if

necessary

Weekly housekeeping, laundry, linens, and on-going facility maintenance
Written care plan
Lots of daily social activity options
Well-trained, 24-hour care staff at an all-inclusive community should include services such as: bathing, dressing, grooming, toileting, mobility and medical administration.
Contact us today to see how we can help you understand your Georgia senior living questions.