Though your loved one has been diagnosed with dementia, you understand that your mom or dad is still able to experience joy, fun, pain, affection and meaning in the activities of daily life. This is why it's vital that you find an assisted living community with a high-quality dementia care program based on the "person-centered care" model. This is care tailored to the unique abilities and needs of each resident.
Consider these key care areas during your community tours:
Mealtimes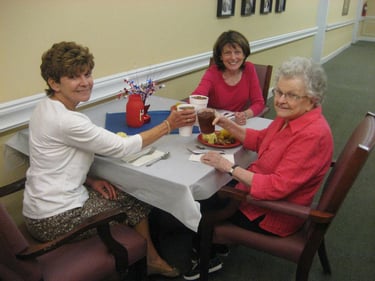 Staff should make sure each resident gets the proper amount of food and fluid; inadequate or inappropriate consumption can negatively impact resident's health, warns the Alzheimer's Association.
Visit during mealtimes and see if staff makes mealtime a pleasant and enjoyable time; coercive or demanding staff behavior is a red flag. Ask to see the week's meal plan and find out how the community defines a nutritious meal.
Observe the help residents get with proper fluid intake; do staff help them drink if needed? Does the residence customize meals based on the medical needs of each resident? Does the community do a family interview to find out what foods the loved one likes and dislikes?
Oftentimes, a resident who repeatedly refuses food may simply be a picky eater who doesn't like specific foods.
Related: Creating a Sense of Community in the Senior Living Dining Room
Resident engagement
Engagement in meaningful activities is one of the critical elements of a good dementia care program. Residents are better able to maintain functional abilities, gain a sense of community and enjoy their day. On your tour, look at what activities are going on and how staff engage with residents. A room full of residents sitting alone with no staff interaction may be a red flag to investigate.
Related: 5 Meaningful Senior Living Activities You'll Find in Assisted Living
Physical environment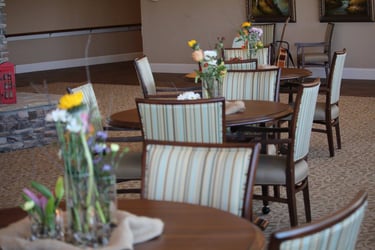 A good dementia care program pays attention to the residence's physical layout. A positive environment offers easy-to-find dining, activity and restroom areas as well as other cues and physical assistance tools to help residents safely navigate the residence.
Does it offer good lighting, handrails along hallways, pleasant music, comfortable chairs and couches, and a happy, clean and homelike décor?
Related: Why Senior Safety is Job One for Senior Living Communities
Wandering safety
It's important for your loved ones to be able to go outdoors by themselves, if they are capable, and to enjoy sunshine and flower gardens. However, dementia patients often begin wandering and can put themselves at great risk if the community isn't properly secured.
Make sure it provides a safe and secure setting so residents can wander without endangering themselves. Ask about around-the-clock staffing, and check out the physical security provided; fully-fenced communities, password gate entries, locks, and cameras are common security features.
Communication with residents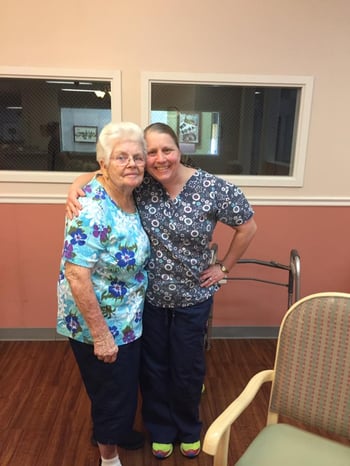 Caregivers should provide a failure-free communication environment. How staff communicates with residents and how residents communicate with staff are important overall care cues you should look for.
Staff should speak in simple, direct language, be patient and compassionate and provide positive physical contact. Dementia sufferers are often confused about time and place and may think they are living at their old home, or their parent's home.
Staff should not correct these impressions, but rather offer a reassuring smile, a friendly comment or a hand to be held.
Cleanliness
Look at how clean the resident's clothes are. See if hair looks freshly shampooed and brushed. Do a smell-check to see if you detect unpleasant odors that might point to an unsanitary residence.
During a tour, collect information that helps you decide which residence is right for your loved one. What do you think is most important?
Are you looking for some peace of mind after an Alzheimer's or dementia diagnosis?
The best dementia care programs have many programming, safety and accommodation components. Learn how we've combined these to bring the latest in dementia care programming to our communities.