Life enrichment is an integral part of selecting the perfect assisted living community. Many residents come to assisted living when their homes have become too much for them to take care of. Seniors considering assisted living may hesitate due to their belief that there will be limited activities in assisted living. However, nothing could be further from the truth. Both on site and off site, residents in life-enriched assisted living communities enjoy many activities every day.
A Good Assisted Living Community Enriches Residents Lives:
Physically
In addition, assisted living enriches seniors lives is creating opportunities for seniors to exercise. Without regular exercise beyond normal daily activities mobility can be lost. A life-enriched assisted living community includes options like Fitnessize, Chairasize, and much more. There is a focus on keeping residents moving and healthy.
Nutritionally
Furthermore, an assisted living community can improve senior nutrition. When living alone or with just two people, seniors often microwave a dinner or eat leftovers. Rather, as a part of an assisted living community, they will enjoy a variety of delicious healthy meals, to ensure that they get the proper nutrition.
Socially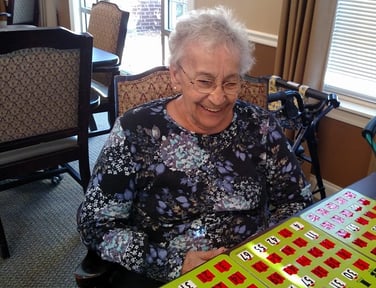 One of the biggest challenges for seniors as their mobility decreases is staying social. What's more, if they
are living in their own homes, often the only social interaction they have is at the pharmacy, grocery and doctors' appointments. As a member of an assisted living community, seniors make their social schedule as busy or as calm as they want. With social activities like after dinner coffee, needlework, lunch out, and bingo, seniors can spend their days and evenings in good company.
Emotionally
Perhaps most importantly, seniors living at home alone can often suffer from depression or other emotional issues without anyone knowing. In an assisted living community, they will have plenty of activity and support to address these concerns.
Spiritually
Finally, assisted living can promote spiritual health. One of the activities that a decrease in mobility most often affects is worship. For the spiritual senior, assisted living often has opportunities for seniors to join others to share scripture, hymns and sermons.
Looking for a life-enriched Assisted living community?
An assisted living community that ensures everyday lives are enriched for its residents will provide for all their needs--from social to physical and everything in between. Our senior living communities promote life-enriched living filled with social activities, spiritual meetings, exercise classes, and much more.
Learn more about us and our senior living communities, or schedule a tour today.