Medication management is one of the main reasons for moving into assisted living. In fact, one recent study found that 80% of assisted living residents need help with their medications. Moreover, adverse drug reactions cause 10 percent of hospital admissions in older adults--just one more reason medication management is so important.
In an assisted living setting, residents will rely on well-trained staff to assist with their medication needs. As a result, family members need to understand the medication management policies at their loved one's assisted living community. This ensures that living community staff correctly organizes, administers and stores medication.
Many assisted living communities centrally store resident medication in what is informally called the "med room." This restricted-entry office holds resident medication, dosage records and prescription histories of community members. When touring assisted living communities, include a visit to the med room so you can do your own quality-check on how the center handles medication management.
Be sure to look for the following items in your visit:
1. Stored medications should be:
Kept in a locked room at all times.
Kept in a well-lit, well-ventilated, clean and uncluttered room.
The storage area is free of dampness and at normal temperature levels.
Staff stores refrigerated medication in a locked container in the refrigerator.
Kept in their legally dispensed, labeled package, separate from the medication of other residents. Additionally, centrally stored weekly pill organizers must have proper labeling.
Accessible with keys to staff trained to assist with or licensed to administer medications.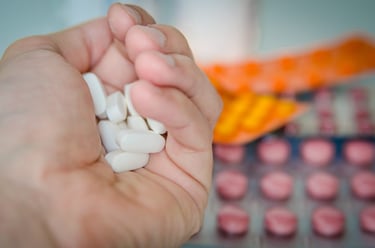 2. Well-organized storage and file organization is key. Maintaining this space reduces the risk of errors and saves time when medication is needed. Also, be sure to look for a systematic order for medication storage.
3. Assisted living staff should be able to quickly share information about your loved one's medication management and prescription history. Ask for notifications about added or discontinued medications and changed dosages. By doing so, you will be aware of exactly what medication regimen your loved one is following.
4. Contact information for your loved one's doctors is readily available.
5. Verify that staff stores discontinued medication separately from medications currently used. This will ensure that your loved one doesn't accidentally take a medicine no longer prescribed by his or her physician.
Medication management is a very important part of a good assisted living community. Consequently, making sure you understand this issue and stay involved will help your loved one enjoy a comfortable and high quality-of-life experience at their living community.
Are you looking for attention to detail when it comes to Senior medication management?
If so, check out our medication management room when you visit one of our communities. Assisted living and independent living doesn't have to be a cookie-cutter experience. Learn how we've combined world-class care with the best practices in medication management.