As our parents and other loved ones age, sometimes we realize that a daunting question keeps creeping to the front of our minds: What am I going to do when this person needs more help than I can provide?
Some people have a lot of worries about choosing the quality of life and care received in a senior living community. Maybe some people have heard negative stories from a friend or relative. Maybe pop culture references have played a part in their perception. Maybe a loved on has even said, "Please don't put me in a nursing home."
No matter what reason you have to be worried about putting your loved one's care in the hands of someone else, it is important to be able to separate facts from fiction so you can make an informed decision.
One of the best ways to find out what a senior living community can offer is by taking a tour. We would be happy to walk you through any of our facilities and give you a first hand look at the benefits of choosing assisted living. You can find out more about our communities and schedule a tour here.
The Right Amount of Care
It is important to know that not all senior living communities are the same. When searching for care for your elderly loved one, you can expect to choose from a few different options:
-Nursing Home
-Assisted Living
-Independent Living
Nursing homes are ideal for those who need the highest levels of attention and care and those who live in independent living tend to need the lowest amount of care. Assisted living communities are ideal for many seniors because they fall somewhere in the middle.
Although seniors may need assisted living environments to manage certain conditions or need help with mobility, it does not mean that have to slow down or be bored. Getting personalized help from trained staff at an assisted living community can actually make your loved one's life easier in many ways and less stressful--freeing up the time and energy to appreciate friends and family and engage in pleasurable hobbies.
Many seniors who live in assisted living settings are still active and mentally sharp. For example, a favorite activity at most of our communities is when groups can get together for craft time. Our Activity Directors have a knack for finding creative new things for residents to try!
Personalized Support
Most people who choose senior communities for their parents do so because they care enough to want them to have the personalized help that they need. Some health situations are overwhelming for even the most dedicated, selfless caregiver.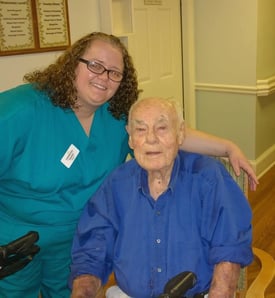 For example, serious memory issues--including dementia--really require well-trained caregivers in community settings. Interaction with others and regular, coordinated activities such as the ones in assisted living communities can be a huge step in slowing memory loss. Caring for seniors with memory issues is challenging, and keeping them safe is the highest priority.
In our communities, our staff is trained to be able to give our residents the amount of quality support that they need, while also affording them a quality of life that they deserve. We do not just provide physical care--we also nurture your loved one's emotional health to help improve their total wellness.
Reaching Out
The most important thing to remember is that you are not in this alone. Any of our community Directors would love to sit down with you to talk about your loved one's needs and how we can help. If our community is not the right fit, we will help you find one that is. We have a convenient Contact Us page you can easily use, no matter which community you are closest to.
You can rest assured that once you find the right place, your loved one will get the kind of care you know they deserve.