You receive the devastating news that your loved one has dementia. Then you struggle to cope as they gradually lose the ability to perform daily living functions. After attempting to take care of your loved one for as long as possible, you finally decide to place them in a care community. Now, you face a whole new set of stressors as you seek the right one.
The only good news in this situation is that today's dementia care communities are much better than what existed just 30 years ago. The old model of the clinical institution has given way to person-centered dementia care. This model utilizes highly-trained staff who deliver a more holistic style of care and helps to create a supportive resident environment. Here are eight things to look for in today's dementia care community.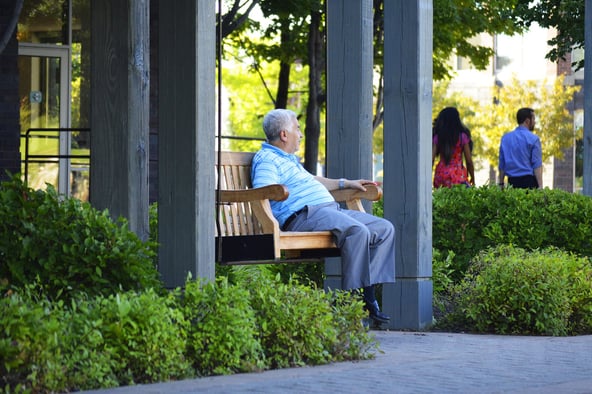 Staffing skill level
The staff in a person-centered community should regularly attend intensive training programs on dementia care and frequently meet to discuss each resident's care needs. When visiting a community, ask about specialized dementia training programs, turnover rates, average employment length at that community and what background checks are performed. Also, spend time watching staff interact with residents and have a conversation with them. The Alzheimer's Association recommends that you ask for recent state inspection results and compare any deficiencies/citations to your state's average.
Security
A person-centered dementia care community provides a safe and secure setting. Make sure around-the-clock staffing is a standard. Also, check that the community is secured with locks, cameras, password gate entries and other modern security solutions.
Clean home-like setting
Modern dementia care communities are clean, warm and home-like, and they are purposefully built for dementia sufferers. Person-centered care communities allow and encourage residents to personalize their room with family photos, pillows, favorite quilts or stuffed animals – it will not look or feel like an institution.
Family accessibility
Family members should have unlimited access to the dementia care community. To verify this, drop in at unannounced times to evaluate what is happening with your loved one. Make sure that families are welcomed in care planning and are notified of changes in the resident's condition, medication or needs. Seek a community that creates a customized plan for your loved one and involves you in that planning process.
Respect and dignity are priorities
The guiding principle behind person-centered care is that your loved one is an individual with unique perspectives and life experiences who is supported, valued and respected. Some communities call it a "failure-free" resident model. The person-centered approach is superior to old models that focused on control techniques like medicating, correcting "wrong" behaviors and placing little value on the dignity and privacy of each resident.
Stimulating activities
Find a community that understands the background of each resident and incorporates important events or abilities into your loved one's activities. This might include things like acknowledging military veterans or making certain holidays a priority. Look for a community that offers stimulating activities such as sing-alongs, drawing/painting or therapy pet visits.
Holistic care approach
Research shows that a person-centered holistic community reduces the need for medical dementia care and control. Look for a community that focuses on friendship, personal care and customized activities.
Customized nutrition
Make sure the nutritional plan is appropriate for your loved one's needs. One plan does not fit all in a person-centered dementia care community. Your loved one's health is different than everyone else's, and this should be acknowledged.
Having trouble finding the 'right' dementia care program?
We work hard to develop state of the art dementia care without losing the quaint, hometown feel our residents love. Schedule a tour now.