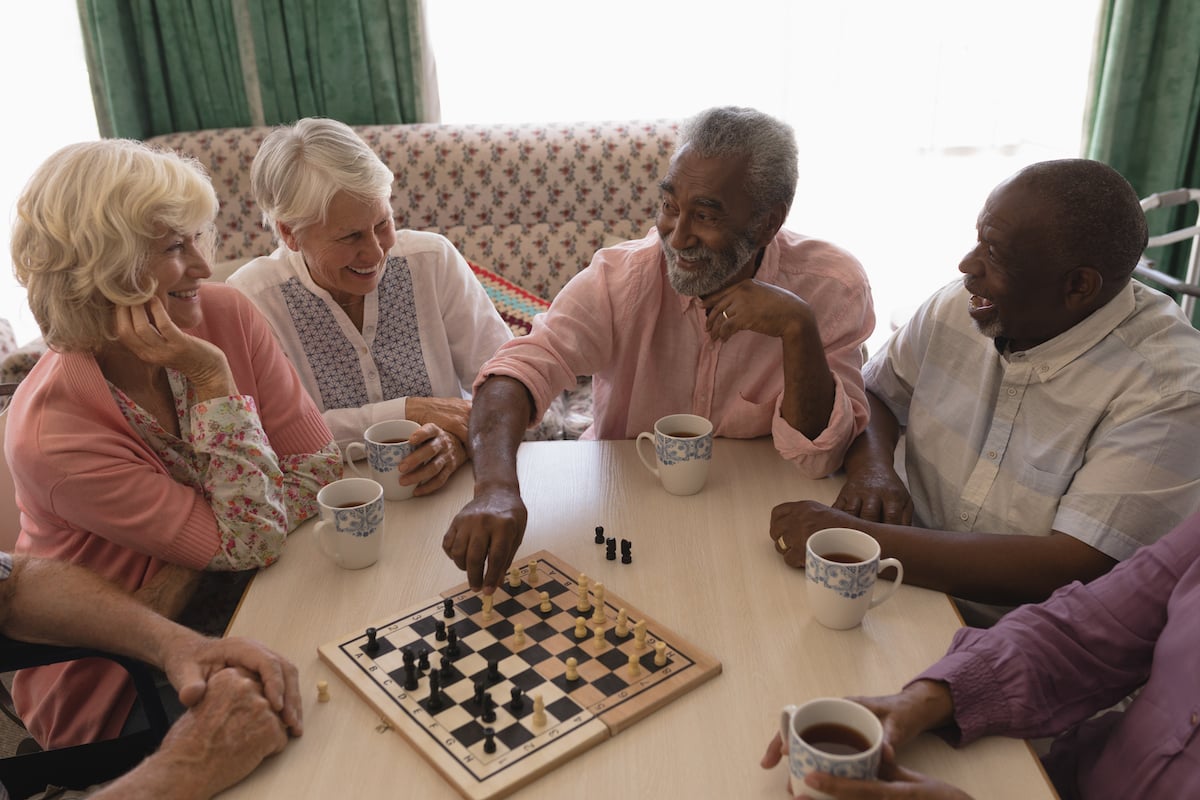 The senior living umbrella encompasses a variety of care levels and lifestyle choices. While communities may offer similar amenities and conveniences for each lifestyle option, the overall services and care differ.
If you are beginning your search, it may be confusing to determine the differences between each level of senior living. Senior Solutions Management Group is here to help. Our senior care communities have the experience to understand what makes each level of senior living unique. We want to assist you in finding the right type for you or someone you love. In this article, we are sharing the key differences between independent living and assisted living communities.
Independent Living
Independent living communities offer individuals the best of both worlds: privacy and community. Similar to living in a private residence, individuals who choose this lifestyle option enjoy a maintenance and worry-free lifestyle within a community setting.
Residents of independent living communities are free to come and go as they please and enjoy access to life-enrichment activities within the community. This is a great option for individuals who want to lead an active, maintenance-free lifestyle within a supportive community setting.
Benefits of Independent Living Communities
Endless Socialization Opportunities
Socialization and connecting with others are significant for leading a healthy lifestyle. As we age, however, opportunities to meet new people and build new connections may decrease.
Fortunately, an independent living community can offer endless socialization opportunities right outside your door. Neighbors, communal dining spaces, and on-site programs, classes, and activities, make it easy for residents to engage, connect, and build long-term relationships.
Worry-Free Living
When you live in a private residence, you are responsible for all the household chores and upkeep of the home. This can be a lot of work and take up most of your free time. Doing all the cooking, cleaning, lawn maintenance, laundry, and whatever else may come up can prevent you from enjoying your retirement years and pursuing your hobbies and interests.
In an independent living community, many (if not all) of these household chores and home maintenance tasks are taken care of for you, freeing up your time and allowing you to spend your retirement years doing exactly what you want to do.
Independent Living with Senior Solutions Management Group
At Senior Solutions Management Group, we take a simpler approach to senior living. Our independent living communities offer an enriched lifestyle with recreational, social, and educational opportunities. We provide residents with more time for themselves by eliminating the time it takes to perform daily home maintenance tasks and chores.
Independent Living Amenities
No Buy-In Fees or Length of Stay Commitment
Weekly Light Housekeeping (Dusting, Mopping, Vacuuming, Bathroom Cleaning, and Trash Removal)
Optional Linen Service (Does Not Include Laundering)
Scheduled Social Calendar of Events
Pest Control, Landscaping, and Grounds Maintenance
Pet-Friendly
Assisted Living
Assisted living services are designed for individuals who wish to maintain their independence but need or benefit from additional care and support. In addition to all the benefits and amenities that independent living provides, the assisted living lifestyle also helps residents with the activities of daily living.
Benefits of Assisted Living Communities
Personalized Care Options
One of the benefits of assisted living services is that the care is personalized. No two people are the same, so the care and support they receive should reflect that. At Senior Solutions Management Group communities, our assisted living services cater to each individual to help them achieve their highest level of wellness.
Encouraging Independence
We all want to maintain our independence and assisted living services can help individuals do this. By assisting with the activities of daily living and providing care in the areas that it is needed, individuals are encouraged to maintain their independence safely.
Assisted Living with Senior Solutions Management Group
At Senior Solutions Management Group, our assisted living communities strive to foster an atmosphere of dignity, independence, purpose, and activity for residents. Our professional caregivers specialize in all-inclusive, highly personalized attention for every person in our community and are available 24-hours a day.
Each of our communities offer exceptional senior living options. Visit our website to explore our communities and find one that is right for your family.