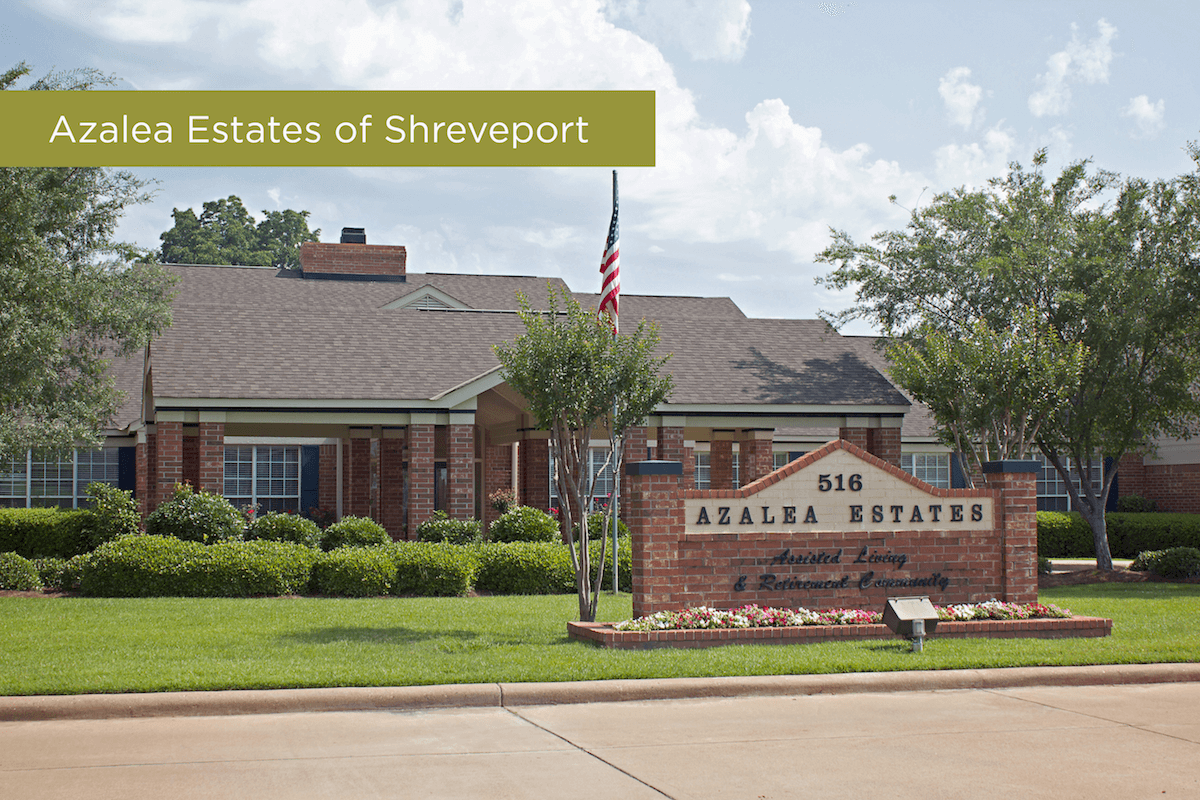 Senior Solutions Management Group (SSMG) is pleased to announce that our company is growing! We have acquired the Louisiana-based Azalea Estates senior housing portfolio, thus opening the company's expansion into the state and allowing us to expand our quality care.
The five Azalea Estates properties were purchased as part of a joint venture between Senior Solutions Management Group and a national real estate investment firm specializing in the acquisition and management of healthcare-related real estate. Located in Gonzales, Monroe, New Iberia, Shreveport, and Slidell, Louisiana, the Azalea Estates communities provide SSMG with an additional 300 units offering exceptional care, services, and lifestyle programs to residents in the areas of assisted living and memory care.
Senior Care in Gonzales, Louisiana
Azalea Estates in Gonzales, Louisiana, offers assisted living services close to shopping, churches, hospitals, and provides security and convenience for our residents, family members, and staff partners.
Gonzales, Louisiana, is home to the annual Jambalaya Festival, making our community the perfect spot for seniors seeking a small-town experience in an area rich with personality! Less than thirty minutes outside of Baton Rouge, residents can take an excursion and see sights of the historic town.
Senior Care in Monroe, Louisiana
The eighth-largest city in the state, Monroe, Louisiana, allows retirees to live in a town full of unique history. Residents, families, and guests can visit the cypress swamps of the Black Bayou Lake National Wildlife Refuge or explore the history of Coca-Cola!
The Azalea Estates of Monroe offers assisted living and memory care services. Our Monroe senior living community is located near churches, hospitals, and a police and fire station, providing added peace of mind and convenience for our residents, family members, and staff.
Senior Care in New Iberia, Louisiana
Founded in 1779, New Iberia, Louisiana is a unique melting pot of Spanish-French-African American-Creole heritage. Here, residents can enjoy a new type of retirement in a city rich with history, culture, and exceptional cuisine that has many antebellum structures and historic sites!
New Iberia, Louisiana, is also home to several festivals, including the Louisiana Sugar Cane Festival, so there is always something to enjoy in this humble, beautiful city!
The Azalea Estates of New Iberia offers assisted living services and memory care services for those with Alzheimer's and other forms of dementia. Our community focuses on exceptional care while offering unique opportunities and experiences.
Senior Care in Shreveport, Louisiana
Located in Northwest Louisiana, Shreveport is a town with many offerings and interesting venues. Residents living in our community can enjoy excursions to the Sci-Port Discovery Center, which offers many hands-on experiences or hop on board and enjoy a riverboat casino on the Red River. Our location in Shreveport truly encompasses southern hospitality!
The Azalea Estates of Shreveport offers assisted living services. If you or a loved one are considering a retirement community, we believe we can deliver a superior environment to our competition.
Senior Care in Slidell, Louisiana
Located on the northeast shore of Lake Pontchartrain in St. Tammany Parish, Slidell, Louisiana, is a unique city that shows off the beauty of the state. Residents in our community can enjoy a new level of retirement amongst the nature of Louisiana, giving them access to parks like Camp Salmen Nature Park.
The Azalea Estates of Slidell offers assisted living services, and our mission is to provide our residents with the services and care that will enable them to continue to live happy, purposeful lives.
"Senior Solutions Management Group is very excited to be a part of the Slidell community, and we look forward to bringing some of the best we have to offer to Azalea Estates. We believe in sharing our love of food, entertainment, and good times with our residents, our staff, as well as their friends and family," says Chris Sides, owner of SSMG.
Based in Suwanee, Georgia, Senior Solutions Management Group was founded in 2004 and currently operates 23 senior living communities in Georgia, South Carolina, Tennessee, and those recently acquired in Louisiana. The company offers multiple levels of senior housing and care, including independent living, assisted living, memory care, and respite care services. SSMG ensures the highest standards through a vast network of resources, providers, vendors, home health agencies, and specialists with a focus on individualized service for their residents.
If you want to learn more about our communities or services, we encourage you to contact us or find an SSMG community near you!